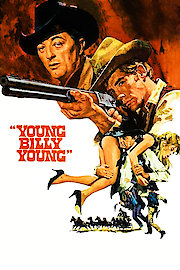 Watch Young Billy Young
"Billy better learn fast...or die young!"
G
1969
1 hr 29 min
Young Billy Young is a 1969 Western starring Robert Mitchum and Angie Dickenson. Robert Walker Jr. and David Carradine also star in the film. An interesting bit of trivia about the film is that Robert Mitchum sings the theme song. Billy Young (Walker Jr.) is discovered by Dodge City lawman Ben Kane (Mitchum)in the desert. Young accompanies Kane to a town in New Mexico where Kane has a deputy sheriff job waiting for him. Billy's partner Jesse Boone is also sitting in the local jail.