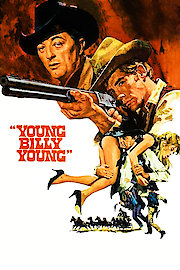 Watch Young Billy Young
"Billy better learn fast...or die young!"
G
1969
1 hr 29 min
Young Billy Young is a Western drama film released in 1969, featuring a star-studded cast including Robert Mitchum, Angie Dickinson, and Robert Walker Jr. The film is set in 1880 in the town of Lordsburg, New Mexico, and follows the story of Billy Young (Robert Walker Jr.), a young drifter who is seeking a new life and a fresh start.
The film opens with Billy Young arriving in Lordsburg, where he is immediately caught up in a conflict between two powerful men, Sheriff Ben Kane (Robert Mitchum) and a local cattle baron named John Behan (David Carradine). Behan is running for the position of mayor in the upcoming election, and he is eager to eliminate anyone who opposes him. Meanwhile, Sheriff Kane is trying to maintain law and order in the town despite the growing corruption and lawlessness all around him.
Billy Young soon finds himself caught in the middle of this conflict, drawn to Behan's beautiful mistress, Lily Beloit (Angie Dickinson), and befriending a reclusive old gunfighter named Jesse Boone (Jack Kelly) who lives outside of the town. As he becomes more involved in the struggle between Kane and Behan, Billy is forced to choose which side he is on and confront his own complicated past.
One of the main themes of Young Billy Young is the struggle between law and order and the lawless violence that often accompanies frontier life. Sheriff Kane wants to keep the town peaceful and safe for its citizens, but he is constantly thwarted by Behan and his gang of outlaws, who are determined to control the town by any means necessary. Billy Young is caught in the middle of this conflict, forced to choose whether to stand with the corrupt Behan or to help the sheriff maintain law and order.
The film also explores the theme of redemption, as Billy tries to put his past behind him and start a new life. He is haunted by memories of his former life as an outlaw and is determined to make amends for his past mistakes. He finds a kindred spirit in Jesse Boone, who has also lived a life of violence and is now seeking redemption in his own way.
The performances in Young Billy Young are strong across the board, with Robert Mitchum giving a nuanced portrayal of the conflicted Sheriff Kane. Angie Dickinson is captivating as the sultry Lily Beloit, who manages to hold her own against the two male leads. Robert Walker Jr. delivers a convincing performance as the titular character, and his scenes with the other actors are all imbued with a sense of danger and tension.
The film is also notable for its impressive cinematography, capturing the sweeping vistas of the New Mexico desert and the claustrophobic streets of Lordsburg with equal skill. The music, by Jerry Goldsmith, is also effective in setting the tone of the film, with its haunting melody and jangling percussion evoking the wild and dangerous nature of the Old West.
Overall, Young Billy Young is a gripping Western drama that manages to balance action, romance, and introspection in equal measure. The themes of law and order, redemption, and the struggle to overcome one's past are all handled with a deft touch, and the performances and production values are all top-notch. It remains a classic of the genre and is well worth watching for fans of Westerns and Western dramas alike.
Young Billy Young is a 1969 action movie with a runtime of 1 hour and 29 minutes. It has received moderate reviews from critics and viewers, who have given it an IMDb score of 5.7.