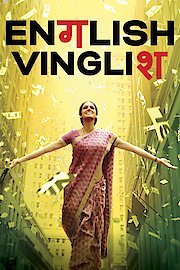 Watch English Vinglish
"The first time only happens once."
NR
2012
2 hr 9 min
English Vinglish is a heartwarming family drama with a strong social message about the importance of education and respect for women. The film tells the story of a middle-aged Indian woman named Shashi (Sridevi), who runs a small snack business from her home in Mumbai. Shashi is a devoted wife and mother, but she suffers from a huge sense of insecurity and low self-esteem because of her poor English language skills.
Shashi's husband (Adil Hussain) and teenage daughter are fluent in English and often mock their mother's attempts to communicate in English, which leaves her feeling embarrassed and unimportant. However, Shashi's life changes drastically when she gets an opportunity to travel to New York for her niece's wedding. In America, Shashi finds herself lost and alone in an unfamiliar environment, and her struggles with the English language only escalate. But as her stay in America progresses, Shashi becomes determined to learn English and finally gain the respect she deserves.
The film's central theme is the empowerment of women through education and self-reliance, and this message is driven home through Shashi's journey of self-discovery. Sridevi's performance as Shashi is brilliant as she effortlessly captures the character's vulnerability, humour and resilience. Her struggles and setbacks are relatable, and it's impossible not to root for her as she overcomes seemingly insurmountable obstacles.
The other standout performance in the film comes from Mehdi Nebbou, who plays Laurent, Shashi's French language tutor. Laurent, a handsome and sensitive man, quickly develops a soft spot for Shashi and their interactions form the emotional core of the film. Their conversations are filled with moments of genuine connection and understanding, and the chemistry between the two actors is palpable.
English Vinglish also features a strong supporting cast of veteran Indian actors, including Sujata Kumar, Navika Kotia and Shivansh Kotia, who play Shashi's sister, niece and nephew respectively. These characters allow the film to explore the complex dynamics of family relationships, as well as the inter-generational divide between traditional values and modern aspirations.
The film's direction and cinematography are also top-notch, with director Gauri Shinde infusing the film with colour, vibrancy and humour. The scene where Shashi attempts to order food from a fast food restaurant in America is a particular highlight, as is the climax of the film, where Shashi delivers a powerful speech in English.
Overall, English Vinglish is a beautiful and inspiring film that celebrates the transformative power of education and the importance of women's empowerment. Its message of inclusivity and cultural exchange is universal and relevant, and the film is a must-watch for anyone interested in Indian cinema or the power of storytelling.
English Vinglish is a 2012 comedy with a runtime of 2 hours and 9 minutes. It has received mostly positive reviews from critics and viewers, who have given it an IMDb score of 7.8.