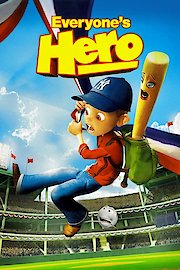 Watch Everyone's Hero
"No matter where life takes you, always keep swingin'"
G
2006
1 hr 27 min
51
Everyone's Hero is a comedy, computer animated family sports drama. It is directed by Christopher Reeve, Daniel St. Pierre, and Colin Brady. The film stars Jake T. Austin, Forest Whitaker, William H. Macy, Whoopi Goldberg, Raven-Symoné, Rob Reiner, Mandy Patinkin, Brian Dennehy, Richard Kind, Joe Torre, Dana Reeve, and Robert Wagner. The movie is dedicated to both Christopher Reeve and Dana Morosini, his wife. The film takes place in 1932 during the beginning of the Great Depression. Yankee Irving (Austin) is a young baseball fan who dreams of playing baseball for the Yankees one day. His father Stanley (Patinkin) is a janitor at the Yankee Stadium. While at the sandlot one day, he begins talking to a baseball he calls Screwie (Reiner). When Babe Ruth's famous bat is stolen, Yankee's father is blamed and fired. Darlin' (Goldberg) is the name of his bat. The thief is a pitcher on the Chicago Cubs named Lefty Maginnis (Macy). Lefty works for Napolean Cross (Williams) who is the owner of the Cubs and wants the Cubs to beat the Yankees in the World Series.