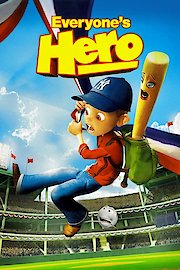 Watch Everyone's Hero
"No matter where life takes you, always keep swingin'"
G
2006
1 hr 27 min
51
Everyone's Hero, released in 2006, is a charming and inspiring animated movie that tells the story of a young boy named Yankee Irving (voiced by Jake T. Austin). Yankee is a passionate baseball fan and an enthusiastic player, but unfortunately, his lack of size and skill often renders him the outcast when it comes to actually playing the game. One day, however, he stumbles upon an unlikely opportunity to become a hero on and off the field.
When Yankee's father loses his job at the New York Yankees' stadium in the midst of the 1932 World Series, Yankee runs off to retrieve his father's lucky bat from the stadium. On his journey, Yankee befriends a talking baseball named Screwie (voiced by Rob Reiner), who is determined to help him accomplish his mission. Along the way, they run into a host of colorful characters, including an African-American pitcher named Lonnie Brewster (voiced by Whoopi Goldberg) and a sportscaster named Walter Harvey (voiced by William H. Macy).
As Yankee and Screwie make their way across the country, they soon discover that the beloved bat they are seeking was actually stolen by Harvey, who owns the Chicago Cubs and has been using the bat to cheat during the World Series. Determined to make things right, Yankee and his friends come up with a plan to retrieve the bat and reveal Harvey's dastardly scheme.
The central theme of Everyone's Hero is the power of perseverance in the face of adversity. Yankee's size and skill may make him an unlikely hero, but his determination, kindness, and ability to think outside the box make him an instrumental figure in taking down Harvey's cheating scheme. At its core, the movie is a heartwarming celebration of the underdog and the power of teamwork.
Another standout feature of Everyone's Hero is its impressive voice cast. In addition to Austin, Goldberg, and Macy, the film also features the talents of noted actors such as Brian Dennehy, Richard Kind, and Forest Whitaker, among others. The voice acting is top-notch and adds a great deal of personality to the film's already colorful characters.
Visually, Everyone's Hero is a treat for the eyes. The animation is bright and colorful, with a distinctive style that is both detailed and whimsical. The characters are all wonderfully expressive, and the action sequences - particularly the scenes featuring baseball games - are both exciting and visually impressive.
The film's soundtrack is also notable, featuring a variety of classic songs from the era in which it is set. In particular, the use of Louis Armstrong's "What a Wonderful World" during a key moment in the film is a touching and effective choice.
Overall, Everyone's Hero is a delightful family film that is sure to be enjoyed by viewers of all ages. Its uplifting message of perseverance, teamwork, and doing the right thing is both timely and timeless, and its charming characters, witty humor, and impressive animation make it an instant classic. Whether you're a fan of baseball or just a lover of great storytelling, Everyone's Hero is a movie that is sure to touch your heart and leave you with a smile on your face.
Everyone's Hero is a 2006 adventure movie with a runtime of 1 hour and 27 minutes. It has received moderate reviews from critics and viewers, who have given it an IMDb score of 5.7 and a MetaScore of 51.