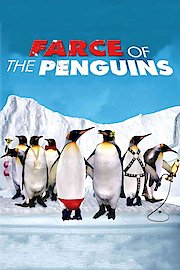 Watch Farce of the Penguins
"What Happens In Antarctica... Stays in Antarctica"
R
2007
1 hr 20 min
Farce of the Penguins is a 2006 American comedy movie directed, co-written by and starring Bob Saget. The movie is made in mockumentary style, narrated by Samuel L. Jackson, and featuring voiceovers from various other celebrities. The plot is a parody of the 2005 French documentary March of the Penguins, and it follows the love lives of a group of penguins as they navigate the treacherous Antarctic terrain.
In a hilarious opening scene, Jackson sets the tone by explaining in his signature smooth style how penguins have a very simple existence: eat, sleep, mate, and for some, death. But for one particular group, matters of the heart are a bit more complicated. That group is led by Jerry (Bob Saget) and his faithful sidekick, Ray (Lewis Black). Jerry is a bit of a loser, a penguin who can't seem to get the love he wants, no matter how poorly he woos his crushes.
Ray, on the other hand, is Jerry's wingman, best friend, and steady voice of reason, even though he frequently indulges in snarky asides, breaking the fourth wall by commenting on the absurdity of the situation at hand. Meanwhile, Alyson Hannigan plays Melinda, a sassy penguin who captures Jerry's heart and becomes the target of his affection. She is Jerry's true love and the only penguin who ever gave him a chance. But can Jerry win her over amidst the other suitors?
The movie's non-stop comedic appeals to a mature audience, with plenty of irreverent humor and raunchy jokes that will leave you in stitches. The movie leans heavily on observational comedy, and pays particular homage to the documentary March of the Penguins, poking fun at its sentimental tone, and over-dramatization of the penguins' lives.
As you watch the antics of these arctic birds, you'll find yourself chuckling at their romantic escapades, and cheering them on as they face down predators, sub-arctic temperatures, and the occasional lonely night. Apart from the lighthearted fun, the clarity of cut scenes and catchy music also stand out to captivate viewers' attention.
This movie is a perfect example of how parody movies should be done. It takes a single concept and runs with it, finding jokes and notes of humor that other movies would have missed entirely. The voiceovers from the celebrity cast help to elevate the comedy, with each bringing a unique perspective and persona to the story. The use of puppets and animatronics to bring the penguins to life is nothing short of genius, and the special effects leave nothing to chance, making sure that the laughs keep coming throughout.
In conclusion, Farce of the Penguins is a hilarious, thoroughly enjoyable movie with no agenda except to make its viewers laugh. With a talented cast, inventive visuals, and a witty script that never gets old, this movie promises to keep you entertained all throughout. Whether you're a fan of March of the Penguins or just like to laugh, give this movie a try. You won't be disappointed.