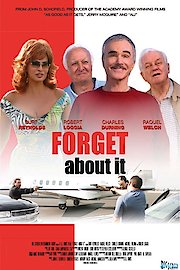 Watch Forget About It
"Age is the least important thing in the world"
PG-13
2005
1 hr 28 min
Sam (Burt Reynolds), Carl(Robert Loggia), and Eddie (Charles Durning) are three retired war vets who are spending their retirement in the Sunrise Village, a small trailer park in Arizona. They amuse them selves by spending their days and nights flirting with their neighbor, a hot younger woman named Christine (Raquel Welch). One day they find a suitcase full of money near their park, and everything changes. It turns out that the suitcase belongs to an ex-mafioso who is in the witness protection program, and the three men find themselves on the run from both the Mafia and the Feds in this hilarious farce.