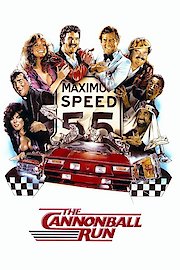 Watch The Cannonball Run
"You'll root for them all...but you'll never guess who wins."
PG
1981
1 hr 35 min
28
"The Cannonball Run" is a classic comedy movie that centers around an illegal vehicle race across America. The film is based upon a real race and features a large cast that includes many well-known actors and actresses. In "The Cannonball Run" race participants enter solo or in two-person teams in vehicles of their choice. One team features Michael Hui and Jackie Chan in a Subaru powered by a rocket engine and another team is comprised of Adrienne Barbeau and Tara Buckman who are traveling in a Lamborghini sports car. Burt Reynolds and Dom DeLuise make up a pair of racers whose mode of transport is an actual ambulance. Another team features Sammy Davis Jr. and Dean Martin dressed as priests while driving a Ferrari. One of the solo drivers in "The Cannonball Run" is a Middle Eastern millionaire played by Jamie Farr who drives a Rolls-Royce and Roger Moore plays the heir to a girdle company who drives an Aston Martin in the race. Other teams participating in the race are comprised of Mel Tillis and Terry Bradshaw driving a custom Chevrolet as well as the team of Bert Convy and Warren Berlinger who ride together on a motorcycle. The motorcycle is stuck in a 'wheelie' position wherein it is being operated on its rear wheel only with the front end pointing up in the air. There are laughs aplenty in "The Cannonball Run" with the participants becoming involved in a host of hilarious situations. The action is fast-paced and there is even an all-out brawl between some of the drivers and a marauding motorcycle gang. An array of guest stars make cameo appearances in "The Cannonball Run". They include Peter Fonda, Bianca Jagger and Valerie Perrine. Directed by Hal Needham, "The Cannonball Run" has a running time of approximately 95 minutes.