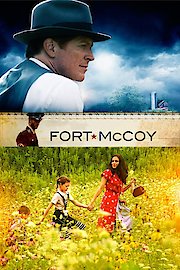 Watch Fort McCoy
R
2014
1 hr 41 min
47
Fort McCoy is a 2011 drama set in 1944, depicting events surrounding a Midwestern army base during World War II. The film follows the story of the McCoy family as they struggle to adjust to a new home at the base. Frank (Eric Stoltz), the patriarch of the family, is a barber who has been drafted to work on the base. His wife, Ruby (Kate Connor), is a warmhearted mother who cares for their two sons and a daughter. As the family adjusts to military life, they learn to deal with the challenges that come with it.
Alice (Lyndsy Fonseca) is a young woman who has come to live with her grandmother (played by Sydney Pollack) on the base. She is working as a nurse and is very popular with the soldiers. Alice quickly falls for an army private named Sam (Johnny Pacar), but her grandmother is not pleased with their relationship. Sam is a Jewish soldier, and Alice's grandmother is an anti-Semite. In addition to dealing with the disapproval of her grandmother, Alice also has to contend with the fact that Sam may soon be shipped off to fight in the war.
Meanwhile, Frank's brother-in-law, Lester (Johnny Call), comes to stay with the family. Lester is a self-proclaimed war hero who is constantly bragging about his exploits. He also has a drinking problem and a tendency to cause trouble. When he starts to get involved in illegal activities on the base, Frank tries to intervene and prevent his brother-in-law from getting into serious trouble.
The plot thickens when a group of German prisoners of war is brought to the base to work. Initially, the soldiers on the base are hesitant to allow the German POWs to do work for them. However, when the base is overrun by a plague of potato bugs, the soldiers are forced to rely on the POWs to help them get rid of the pests. Through working together, the soldiers and the prisoners start to develop a sense of mutual respect and understanding.
As the war rages on overseas, the characters of Fort McCoy must deal with the reality that their loved ones may not return home alive. Alice and Sam's relationship is complicated by the fact that he is about to be sent to the front lines. Frank is grappling with his own fears about the war, and how it may impact his family. Meanwhile, Ruby must confront some harsh truths about her own prejudice when she and Lester get into a heated argument.
Overall, Fort McCoy is a touching portrait of life during wartime. The film does an excellent job of capturing the challenges and complex emotions that come with being a military family. With a talented cast and a well-written script, Fort McCoy is a powerful film that will leave a lasting impression on viewers.
Fort McCoy is a 2014 war movie with a runtime of 1 hour and 41 minutes. It has received mostly poor reviews from critics and viewers, who have given it an IMDb score of 5.8 and a MetaScore of 47.