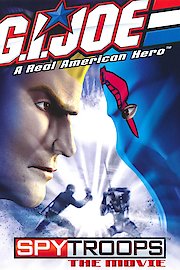 Watch G.I. Joe: Spy Troops
G.I. Joe: Spy Troops is a 2003 animated movie that centers on the G.I. Joe team and their mission to stop the evil organization Cobra from obtaining a weapon of mass destruction. The team consists of iconic characters like Duke, Scarlet, Roadblock, and Snake Eyes, who join forces with a new recruit, Captain Grid Iron, to uncover and foil Cobra's plans.
The movie begins with the G.I. Joes intercepting a shipment of stolen nanotechnology, which they discover is just a small part of a much larger scheme. After a tense battle with Cobra forces, the Joes are able to retrieve one of the nanotech components and bring it back to their headquarters. There, they learn that Cobra is in possession of the other three components and is working on a secret weapon that could destroy entire cities.
To prevent this weapon from being completed, Duke and Scarlet come up with the plan to infiltrate Cobra's base disguised as members of their organization. In order to do so, they enlist the help of Captain Grid Iron, who has intelligence on Cobra's inner workings. The team is able to successfully infiltrate and gather information, but things take a turn when they discover that Cobra is also in possession of a powerful new stealth technology.
As they delve deeper into the mission, the Joes must navigate dangerous territory as they come up against the ruthless Cobra Commander and his minions. Along with thrilling action sequences and intense fight scenes, G.I. Joe: Spy Troops also explores the complex relationships between team members, as well as their unwavering loyalty to each other and their mission.
The voice acting in the movie is top-notch, featuring performances by John Payne as Duke, Matt Hill as Snake Eyes, and Lisa Ann Beley as Scarlett. Their chemistry together creates a convincing portrayal of the close-knit team and their struggles to stay unified in the face of danger.
Overall, G.I. Joe: Spy Troops is an action-packed, compelling story that will keep viewers on the edge of their seats. Its themes of teamwork, loyalty, and bravery are universal and resonate with audiences of all ages.