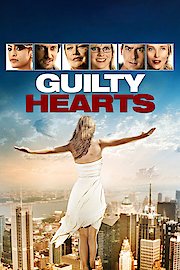 Watch Guilty Hearts
"Life on the edge.....and over it."
R
2011
1 hr 45 min
Guilty Hearts is a 2006 drama film that explores the complexities of love and relationships through six interconnected stories. The film features an all-star cast, including Kathy Bates, Gerard Butler, and Julie Delpy, among others. The movie is set in Los Angeles, and each of the six stories is centered around a different character, although the characters are all connected in some way. The themes explored in the film range from infidelity and jealousy to forgiveness and redemption.
In one story, Bates plays a scorned wife who seeks revenge against her cheating husband (played by Gabriel Byrne) and his much younger mistress (played by Anna Faris). In another story, Butler plays a man who falls in love with a married woman (played by Delpy) and must decide whether to stay with her or leave her for the sake of his own well-being.
Other characters include a young woman who is torn between two lovers, a small-time criminal who finds redemption through an act of selflessness, and a man who must confront his past mistakes and make amends with those he has wronged.
Throughout the film, the characters struggle with their guilt and shame over their actions, as well as their fear of judgment and rejection. Some characters confront their guilt head-on, while others try to bury it deep down or ignore it altogether.
Despite the heavy subject matter, there are moments of humor and lightness throughout the film. The characters are flawed and human, making them relatable and easy to empathize with.
Visually, the film is stunning, with beautiful shots of Los Angeles and its surrounding areas. The score is also noteworthy, with an emotive and haunting musical theme that perfectly captures the film's melancholic tone.
Overall, Guilty Hearts is a powerful and thought-provoking film that explores the consequences of our actions, the complexities of love and relationships, and the human desire for redemption. The all-star cast delivers top-notch performances, and the film's themes are explored with sensitivity and nuance.