Watch Halloweentown High
This is the third movie in the trilogy. Marnie tries to convince the people of Halloweentown that the human people are not as terrible as they thought by having some of the teenagers from Halloweentown attend her high school in the human world through a foreign exchange like program. The Halloweentown students disguise themselves as humans so not to raise sudden alarm. Through trying to get the council of Halloweentown to open the portal between the two worlds, she must now face an old curse of Halloweentown which can jeopardize everything she is trying to achieve.
|
2004
|
1 hr 22 min
|

/

10
Cast

Director

Mark A.Z. Dippe

Language

English
Halloweentown High News
Scream Queens Season 2 Details Released
March 13, 2016 @ 8:56 am PST
|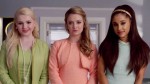 Scream Queens didn't set the TV world on fire when it debuted last year, but it got plenty of social media buzz and had its share of dedicated fans. This week, the show's creators gave some details about what the series' second season will do to keep those fans entertained.
Read More

Beyond Krampus: Holiday Horror Fun
December 11, 2015 @ 4:25 am PST
|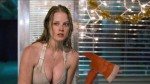 Combining Christmas and horror in a film is a daring move, but it's not new. These films are the best of a bunch that came decades before Krampus.
Read More


Watch Halloweentown High Trailer

Watch Halloweentown High Online - Watch online anytime anywhere: Stream, Buy, Rent
Halloweentown High is currently available to watch and stream, buy, rent on demand at Amazon, Google Play, YouTube VOD online.