Watch Happy Feet 2
"Every step counts."
Erik is the song of Gloria and Mumble, and he is not as excited to dance as the other penguins are in Emperor-Land. When he first tries to dance he ends up stuck in the ice upside down and pees in embarrassment making him subject for bullying much like his father was. Erik and his friends end up finding Lovelace and Sven (a puffin) who show them moss after telling the young penguins that they were saved by humans once. Mumble goes out on a search for his son following his tiny footprints and finds him in Adelie-Land and orders him to return home.
Erik is sent home with Mumble by Sven whom Erik has a vast fascination with. Mumble tells Erik that he will find what he is good at when the time comes but Erik refuses to listen. When the two are about to cross an icy bridge the beach master refuses to let them pass and then the ice begins to crack beneath them. The beach master is trapped and Mumble tries to help him and ends up waking a sleeping lion seal.
Eric and Mumble return to find that the emperor penguins are trapped by a wall of ice with no way to get more fish. They start bringing small morsels of fish to ensure the survival while they try and find a way to rescue them. Erik tries to fly and is scolded by Mumble who tells him that penguins can not fly.
Mumble tries to dance and knock snow into a crevice to force the ice to separate but some of the penguins get her. At a last attempt to save his friends and family he goes to the beach master to plead for their help to free the other penguins. He refuses and Erik starts stating how he is not kind at all. Eventually after sings a song the seals leave the beach to go help bust the penguins out. Some krill below the eyes slam into the ice while all the other penguins and seals slam themselves into the ice until it finally breaks and they are again reunited.
|
2011
|
1 hr 39 min
|

/

10
Cast

Studio

Director

George Miller, Gary Eck

Language

English
Happy Feet 2 News
Want to see Sofia Vergara Ride an Inflatable Bull in a Swimming Pool?
April 24, 2017 @ 9:54 am PST
|
Read More

Weekend Box Office: 'Breaking Dawn' Wins Again, Who Will Take It Down?
December 05, 2011 @ 7:15 am PST
|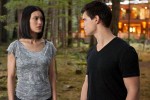 The late November orgy of movie-going mayhem, a.k.a. the release of "The Twilight Saga: Breaking Dawn Part I," is over, and the box office has wasted no time in dipping down to the second-worst weekend of the year in terms of grosses.
Read More

Brad Pitt and Angelina Jolie Are Finally Engaged: See the Ring!
April 14, 2012 @ 10:17 am PST
|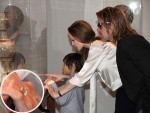 About seven years and six kids later, it looks as though Hollywood power couple Brad Pitt and Angelina Jolie have finally decided to get married. Jolie was spotted wearing an engagement ring that Brad designed himself... click through to see it!
Read More

Thanksgiving Weekend Box Office: The Muppets Are Back, Baby!
November 27, 2011 @ 4:35 pm PST
|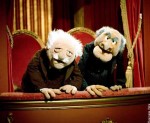 The Thanksgiving weekend was kind to the Muppets, restoring the brand with a solid opening, which pulled in a cool $42 million over five days. "Breaking Dawn," meanwhile, neared half a billion (with a "b") dollars in worldwide box office revenue.
Read More


Watch Happy Feet 2 Trailer

Happy Feet 2 Trailer 2 Official (HD)|1:46
Watch Happy Feet 2 Online - Watch online anytime anywhere: Stream, Buy, Rent
Happy Feet 2 is currently available to watch and stream, buy, rent on demand at Amazon, Vudu, iTunes online.