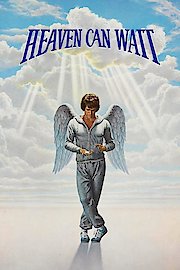 Watch Heaven Can Wait
"Joe Pendleton... the only guy who ever raised Hell about going to Heaven."
PG
1978
1 hr 41 min
72
Heaven Can Wait from 1978 is a romantic comedy fantasy film that is directed by Warren Beatty and Buck Henry. The movie stars Warren Beatty as the protagonist, Joe Pendleton, a football player who is taken to heaven before his time is up. The movie is a remake of the original film called Here Comes Mr. Jordan (1941). Joe Pendleton (Beatty) is a quarterback for the Los Angeles Raiders who are trying to win the Super Bowl. However, during a practice run, Joe is involved in a terrible accident and dies before his time is up. Joe manages to convince the angel in charge, Mr. Jordan (Mason) to send him back to Earth.
Mr. Jordan reveals to Joe that he has made a mistake by taking him to heaven too soon, and even though he can't bring Joe back to life in his original body, he can give him another chance by putting him into the body of a millionaire who was murdered by his wife and his personal assistant.
After being brought back to Earth, Joe meets the millionaire's lawyer, Julie Christie (Betty Logan), who he falls in love with. Joe, now in a new body tries to reclaim everything he had when he was alive as Joe Pendleton including playing football for the Raiders. Joe Pendleton's previous body has been cremated, so Mr. Jordan, displeased with Joe's new-found passion for the game, takes him to heaven and then places him into the body of an unscrupulous businessman who is trying to take over the Raiders for his own purposes.
Joe is not happy with the new body and urges Mr. Jordan to bring him back to his original body. Unfortunately, his body has already been cremated, so Mr. Jordan helps Joe win the Super Bowl on another team so that he can get a chance to meet the daughter of the millionaire who was murdered in his previous body. Joe thinks that she is the one he is meant to be with, but he discovers that his true love is Betty, who he falls in love with again.
Beatty and Henry's direction of Heaven Can Wait is flawless; they managed to create a movie that is both funny and romantic. Their take on the afterlife and heaven is unique and imaginative, which adds a charming aspect to the film.
Warren Beatty's portrayal of Joe Pendleton is endearing, and his charm and charisma are undeniable. His performance is complimented by the stunning Julie Christie, who plays the lawyer Betty Logan. Christie is captivating in her role as she is witty and sharp, complimenting Beatty's comedic personality perfectly.
James Mason's portrayal of Mr. Jordan, the angel in charge, is remarkable. He adds his trademark gravitas to the role, which is both whimsical and profound. Although there are darker aspects of the film, such as greed, corruption, and murder, it is balanced out by the whimsical element, which makes it a thoroughly enjoyable movie to watch.
The cinematography in Heaven Can Wait is stunning, and the art direction is excellent. The use of colors, particularly in the scenes set in heaven, is visually striking. The film's score is also noteworthy, with a delightful, upbeat melody.
In conclusion, Heaven Can Wait from 1978 is a gem of a film that is both magical and endearing. Beatty, Christie, and Mason are all at their best in their respective roles, and the direction by Beatty and Henry is impeccable. The film's unique take on the afterlife is imaginative, making it a charming aspect of the film, and the balance of comedy and romance is especially well done. Overall, Heaven Can Wait is a fantastic movie that is a must-watch for all movie buffs, especially those who enjoy romance and comedy with a dose of whimsy.
Heaven Can Wait is a 1978 fantasy movie with a runtime of 1 hour and 41 minutes. It has received mostly positive reviews from critics and viewers, who have given it an IMDb score of 6.9 and a MetaScore of 72.