Watch Hellboy
"From the Dark Side to Our Side."
Released in 2004, Hellboy is an action-fiction movie based on a famous comic book with the same name that was written and drawn by an established artist, Mike Mignola. The movie stars Ron Perlman and Selma Blair. The movie's production budget amounted to $66 million while the gross earnings summed up to $99,300,000. Hellboy runs approximately 122 minutes.
The storyline begins in 19th century Germany where a group of Nazi shamans and devil worshipers open a portal that gives the underworld access to Earth. Led by a Russian occultist named Grigori Rasputin, the group intends to summon the Ogdru Jahad into the world to help them defeat their foes in war.
An allied team is dispatched to stop them and destroy the portal before it can release the imprisoned behemoth. The allied team alongside a doctor/researcher named Trevor Bruttenholm succeeds in stopping the Nazi group. In the process of destroying the portal, Rasputin is sucked into the dimension he tries to open while the others in their group manage to flee. With the portal being opened for a short period of time, a baby demon with a stone right hand is found in a nearby building. Doctor Bruttenholm approaches the baby demon who is, at first, frightened of the humans. The doctor gives him some chocolate and is able to lure him out of hiding.
With red colored skin, a pair of undeveloped horns, and a devil-like tail, Bruttenholm names it Hellboy. The movie then skips several years of Hellboy's life and flashes silhouettes of newspaper articles and pictures of the creature, depicting his growth into an adult. 60 years past, an FBI agent named John Myers is assigned to the Bureau of Paranormal Research and Defense. Entering the facility, he finds himself face to face with the grown up Hellboy and another extraterrestrial named Abe Sapien, who has amphibious characteristics.
The movie also shows Hellboy's love interest and a former agent for the Bureau, Liz Sherman. Liz is currently confined at the mental hospital to protect others from her destructive powers.
|
2004
|
2 hr 2 min
|

/

10
Cast

Studio

Director

Brian Caspe, Corey Johnson

Language

English
Hellboy News
Director Guillermo Del Toro Not Likely to Return for 'Hellboy 3'
June 20, 2011 @ 1:00 am PST
|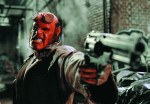 Well, great. File this item under "D," both for "Del Toro, Guillermo" and "Damn shame." "Hellboy" creator Mike Mignola recently has seemingly publicly confirmed that Del Toro will never return to direct a third and final installment in Universal Pictures' franchise based on Mignola's Dark Horse Comics series about a demon battling demons.
Read More

Ron Perlman wants Hellboy to be a trilogy
January 06, 2011 @ 2:40 pm PST
|
Hellboy and Hellboy II: The Golden Army were very popular with comic book fans, with the star of the movies, Ron Perlman, who played the comic book demon, impressing audiences with his portrayal of the demon.
The original movie also starred Selma Blair and John Hurt, and was directed by Guillermo del Toro.
Perlman clearly enjoyed portraying the demon in the first two movies, as he is now hoping to play the same role for a third time.
Read More

Selma Blair is Pregnant!
January 14, 2011 @ 9:03 am PST
|
Well, just when we think the Hollywood baby boom is about to slow down, someone else decides to jump on the bandwagon.
So far, in recent weeks there have been announcements from Kate Hudson, Penelope Cruz, Marion Cotillard and now there is another celebrity to add to the list.
This star has been a bit low key since her TV show was cancelled a year or two ago.
This latest star to announce her pregnancy is – Selma Blair! Selma has been dating Jason Bleick since last year.
Read More


Watch Hellboy Trailer

Hellboy (2004) Official Trailer 1 - Ron Perlman Movie
|
1:19
Watch Hellboy Online - Watch online anytime anywhere: Stream, Download, Buy, Rent
Hellboy is currently available to watch and stream, download, buy, rent on demand at Amazon Prime, Hulu, Amazon, Vudu, FandangoNow, YouTube VOD, iTunes online.