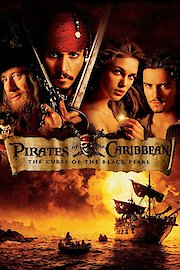 Watch Pirates of the Caribbean: The Curse of the Black Pearl
"Prepare to be blown out of the water."
PG-13
2003
2 hr 23 min
63
Pirates of the Caribbean: The Curse of the Black Pearl, featuring Johnny Depp, Orlando Bloom, Kiera Knightly and Geoffrey Rush. The Black Pearl is a cursed pirate ship, led by Captain Barbosa. They sail the seas trying to reclaim all of the cursed Aztec gold that they had spent carelessly years ago. Only one piece is missing. Elizabeth Swan, the governor's daughter, has the last piece of gold. She is unaware of its value or that it is cursed. After being proposed to by Captain Norrington, she falls into the sea while wearing the gold medallion. This 'calls' the ship to it. Elizabeth is soon rescued by Captain Jack Sparrow, a pirate who used to be the captain of the Black Pearl until his crew turned on him and left him on a deserted island. He has arrived at Port Royal to find a ship and a crew to try to reclaim the Black Pearl. After he rescues her, he is arrested for the crime of being a pirate. He quickly escapes and heads into the town, where he meets Will Turner. Will Turner is a blacksmith who is in love with Elizabeth as well. He also holds a deep loathing for pirates, so when he discovers Jack Sparrow in his workshop, he tries to fight him off with the swords he has crafted. Jack Sparrow is eventually caught and taken to prison. Later that night, the Black Pearl arrives in Port Royal. With cannons firing, the crew runs wild through the town. They go to the governors mansion. Elizabeth is soon taken on board the ship. After learning of Elizabeth's capture, Will Turner will stop at nothing to get her back, even it meets breaking Jack Sparrow out of prison and joining league with a pirate. They commandeer a ship and set out after the Black Pearl. While on the ship, Elizabeth soon learns the effect the curse has had on the crew, and she learns how they intend to break it once and for all.