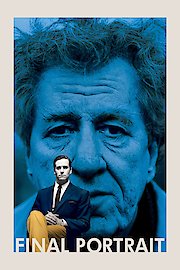 Watch Final Portrait
"The search for perfection never ends"
R
2017
1 hr 30 min
70
Final Portrait is a 2017 movie directed by Stanley Tucci, starring Geoffrey Rush, Armie Hammer, and Tony Shalhoub. The movie tells the story of the Swiss artist Alberto Giacometti and his struggle to create a portrait of his friend, the American writer James Lord. The movie takes place in Paris, in 1964. James Lord (played by Armie Hammer) is a young American writer who has come to Paris for a short visit. During his stay, he is invited by his friend Alberto Giacometti (Geoffrey Rush) to pose for a portrait. Lord is flattered by the offer, but he soon realizes that the process is not going to be easy, as Giacometti is an eccentric and unpredictable artist who is never satisfied with his work.
The movie follows the two men over a period of several weeks, as Giacometti struggles to create a portrait that captures the essence of his friend. Lord, for his part, is patient but increasingly frustrated by the endless delays and the artist's obsessive perfectionism. Meanwhile, Giacometti's wife Annette (Sylvie Testud) and his brother Diego (Tony Shalhoub) watch from the sidelines, offering support and commentary as the portrait slowly takes shape.
The movie is a character study of two very different men, as well as an exploration of the creative process. Giacometti is portrayed as a brilliant but tormented artist, who is haunted by his own self-doubt and his inability to capture the essence of his subjects. Lord, on the other hand, is a young man who is thrown into a world of genius and madness, and who must navigate the murky waters of artistic creation.
The performances in Final Portrait are superb, with Geoffrey Rush giving a compelling portrayal of the troubled artist. Armie Hammer is also excellent as the young writer, conveying both his charm and his frustration with equal skill. Tony Shalhoub brings his trademark humor and warmth to the role of Diego, while Sylvie Testud is quietly effective as Giacometti's long-suffering spouse.
The movie is shot in a simple, understated style that lets the performances and the dialogue speak for themselves. The scenes in Giacometti's studio are particularly effective, as the camera lingers on the artist's cluttered workspace and the various sculptures and paintings that surround him. The movie also makes excellent use of Parisian locations, capturing the city's timeless beauty and its vibrant artistic community.
Overall, Final Portrait is a moving and insightful movie that offers a glimpse into the mind of an artist and the creative process. It is a movie about friendship, obsession, self-doubt, and the struggle to capture the essence of a human being on canvas. It is a movie that will resonate with anyone who has ever created something, whether it be a painting, a novel, or a piece of music. For fans of art and cinema, Final Portrait is a must-see.
Final Portrait is a 2017 history movie with a runtime of 1 hour and 30 minutes. It has received mostly positive reviews from critics and viewers, who have given it an IMDb score of 6.2 and a MetaScore of 70.