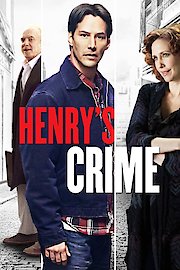 Watch Henry's Crime
"The real crime is not committing to your dreams."
R
2011
1 hr 48 min
49
Henry's Crime is a 2010 movie directed by Malcolm Venville and starring Keanu Reeves, Vera Farmiga, and James Caan. The movie follows the story of Henry Torne, a hapless and uninspired man who is wrongly accused of robbing a bank. When he is sent to prison for a crime he did not commit, Henry's perspective on life changes drastically, and he decides to take control of his own destiny.
After serving his sentence, Henry returns to his hometown in Buffalo, only to find that his life has passed him by. Feeling lost and desperate, he is drawn to a beautiful woman named Julie Ivanova, who is in the process of putting on a production of Chekhov's "The Cherry Orchard" at a nearby theatre. Henry becomes involved in the production, and his newfound passion for theater reignites his desire to live life to the fullest.
At the same time, Henry reunites with his old friend Max, a small-time criminal and former cellmate who convinces him to undertake a daring heist. The target is a nearby bank that is connected to the theater by an underground tunnel, and Henry sees it as an opportunity to not only right the wrongs done to him but also to find a purpose in life.
Despite his lack of experience in crime and his newfound love for theater, Henry throws himself into planning the heist, with Max and Julie by his side. As the plan unfolds, Henry realizes that he is not only becoming a criminal but also a leading man in the play.
The story of Henry's Crime is a tale of redemption, self-discovery, and the power of the arts to transform lives. Keanu Reeves delivers a compelling performance as the eponymous hero, bringing depth and nuance to a character who at first seems lost and aimless. Vera Farmiga is equally impressive as Julie, playing the role of a passionate and unconventional actress with both grace and intensity.
James Caan brings his signature toughness and charisma to the role of Max, providing a welcome dose of humor and danger to the proceedings. The chemistry between the three main characters is palpable, and their interactions are the heart and soul of the movie.
The movie is also notable for its beautiful cinematography, which captures the snow-filled streets of Buffalo and the muted colors of the theater with a keen eye for detail. The music is another highlight, with a score that is both evocative and haunting.
Overall, Henry's Crime is a delightful and engaging movie that combines elements of comedy, drama, and heist films in a unique and compelling way. It is a must-watch for fans of Keanu Reeves and Vera Farmiga, as well as anyone looking for a feel-good movie that also packs a punch.
Henry's Crime is a 2011 crime movie with a runtime of 1 hour and 48 minutes. It has received mostly poor reviews from critics and viewers, who have given it an IMDb score of 5.9 and a MetaScore of 49.