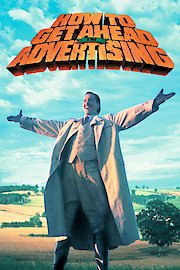 Watch How to Get Ahead in Advertising
"The career where two heads are better than one."
R
1989
1 hr 34 min
How to Get Ahead in Advertising is a satirical black comedy film directed by Bruce Robinson with a screenplay he also wrote. It was released in 1989, starring Richard E. Grant, Rachel Ward, and Richard Wilson. The movie is set in the advertising industry, and it satirizes the cynicism and dishonesty prevalent in the industry. Richard E. Grant plays the lead role of Dennis Bagley, who is an ambitious and successful advertising executive working for a London-based agency. Bagley is asked to work on a campaign for a pimple cream, which he initially derides as a phony product that can't be sold. However, he is compelled to take on the project, gradually losing his grip on his sanity as he struggles to come up with a successful ad campaign.
As Bagley works tirelessly on the pimple cream campaign, he is plagued by a recurring boil on his neck, which begins to represent his mounting dissatisfaction and unhappiness with his career and life. The boil grows larger and more painful, eventually transforming into a talking head that challenges Bagley's worldview and mocks his values.
The talking head, which is an embodiment of Bagley's conscience and disillusionment, takes on a life of its own and begins to advocate against the very industry that Bagley works for. It ultimately drives Bagley to the brink of insanity, leaving him to question his reason for living and working in such a deceitful and corrupt profession.
The film's exploration of the advertising industry's values and the human psyche's limitations is masterfully done, and the character of Bagley is brilliantly brought to life by Richard E. Grant's performance. He perfectly portrays the character's deterioration from a driven advertising executive to a man driven to the brink of madness by his career.
Rachel Ward plays Julia Bagley, Dennis Bagley's wife. She is portrayed as a supportive wife who is concerned about her husband's increasing mental instability. Her character is critically important in the story because her constant presence provides a reprieve from the constant onslaught of Bagley's professional and personal issues.
Richard Wilson plays John Bristol, another advertising executive in the agency who views Bagley as being too edgy to handle certain clients. His character is a representation of the other side of the industry, the "old guard," who prefer safe and conventional ad campaigns over anything provocative or controversial. Wilson's performance as Bristol is understated and effective, providing a perfect counterpoint to Grant's frenzied portrayal of Bagley.
The movie's commentary on the advertising industry's cynical practices is a central theme. It's shown as an industry that's willing to use any means necessary to sell products, even if it means deceiving their customers or relying on phony products. The entire premise of the plot is built around the idea that advertising can sell anything, even a pimple cream that doesn't work.
In conclusion, How to Get Ahead in Advertising is an intelligent, darkly humorous movie that skewers the advertising industry while also exploring the human psyche's limitations. Richard E. Grant gives an unforgettable performance as Bagley, and the film features a strong supporting cast. The movie is a must-see for anyone interested in black comedy, satire, or an unsparing critique of the advertising industry.