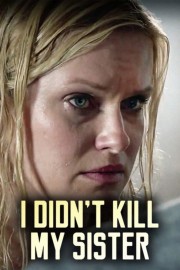 Watch I Didn't Kill My Sister
TV-14
2016
1 hr 28 min
I Didn't Kill My Sister is a dramatic and suspenseful movie that will have viewers on the edge of their seats. Released in 2016, the movie stars Nicholle Tom, Sharon Taylor, and Chris William Martin in lead roles. The movie starts off by introducing us to Joanna, a successful author who has written a book about her sister's murder that happened five years ago. Joanna's sister, Samantha, was found dead in her apartment, and her killer was never caught. Although there were many suspects, including their abusive father, Samantha's murder remained a mystery.
But Joanna's life takes a drastic turn when she gets a call from her mother, who tells Joanna that Samantha's killer has been caught. The alleged murderer is a man named Nathan, who was caught with Samantha's diary in his possession. The diary contains details about the murder that only the killer could have known, leading the authorities to believe that Nathan is guilty.
However, Joanna refuses to believe that Nathan is responsible for Samantha's death. Despite her reservations, Joanna decides to meet with Nathan in prison to hear what he has to say about the murder. During their conversation, Nathan claims that he is innocent and was set up by the real killer. He also tells Joanna that there was someone else with him on the night of the murder, but he doesn't know who it was.
Joanna decides to investigate further and tries to unravel the truth about her sister's murder. She begins to dig deeper into her family's past, searching for clues and talking to people who knew Samantha. Joanna meets a man named Max, who is an old friend of Samantha's, and he agrees to help her with the investigation.
As Joanna and Max delve deeper into the case, they start to uncover secrets about Samantha's life that she had kept hidden. They also begin to realize that someone close to Samantha might be responsible for her death, and that Nathan might be innocent after all.
The movie is full of twists and turns that will keep the audience guessing until the very end. The acting is top-notch, with Nicholle Tom giving a standout performance as Joanna. Sharon Taylor and Chris William Martin are also excellent in their respective roles.
Overall, I Didn't Kill My Sister is a well-written and well-executed thriller that is definitely worth watching. It explores themes of family, betrayal, and redemption, while also providing a satisfying ending that will leave viewers feeling satisfied.
I Didn't Kill My Sister is a 2016 crime movie with a runtime of 1 hour and 28 minutes. It has received mostly poor reviews from critics and viewers, who have given it an IMDb score of 4.8.