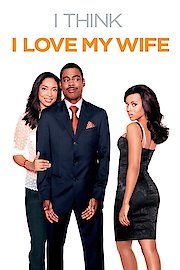 Watch I Think I Love My Wife
"In marriage no one can hear you scream."
R
2007
1 hr 30 min
49
I Think I Love My Wife is a movie, that was co-written by Chris Rock and Louis C.K. The movie, which was also directed and produced by Chris Rock is a romantic comedy. It follows a man who is frustrated with his relationship with his wife. Rock, who stars as the main character Richard Cooper is a married man, with two children and a perfect life. He has a beautiful wife, successful career and a loving family but has become extremely bored with his marriage and questions his love for his wife. His wife Brenda, played by actress Gina Torres, also feels some of the same problems in their marriage and expresses this to their marriage counselor. Although, she feels that there are problems in their marriage she really starts to suspect something is terribly wrong when Nikki comes into the picture. Richard occasionally gets some helpful advice from friend and colleague George, played by Steve Buscemi. George is a fast talking womanizer, who points out how Richard is messing up and advises Richard that he may not be cut out for cheating. Nikki, whose character is played by Kerry Washington creates tension and complications for Richard when she begins frequently showing up at his job. Co-workers begin to whisper when they start having lunch and talking, often under the guise of friendship. Nikki begins to get a little more personal, asking about his marriage and whether he is happy with is wife. Richard begins to creep out on his wife to hang out with Nikki raising his wife's level of suspicion and creating more problems in his marriage. Nikki soon begins trying to seduce Richard and invites him to her apartment. He arrives at Nikki's apartment filled with desire and guilt. He soon begins to have second thoughts about what he is about to do to himself, and his family if he sleeps with Nikki. After leaving Nikki screaming for him to return, he runs out to try and patch things up with his wife.