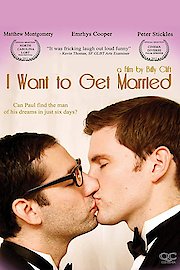 Watch I Want to Get Married
"Can Paul find the man of his dreams in just 6 days?"
NR
2011
1 hr 52 min
Just six days before the vote on Prop 8, the sweet and geeky Paul attends a wedding and decides he wants to get married to the man of his dreams. At the same time, he's assigned to work for a conservative client who's campaigning against gay marriage. Soon, Paul embarks on a hilarious and heartwarming journey to find a future husband, test his moral limits and reconcile with his estranged parents.