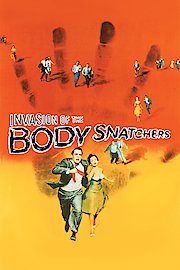 Watch Invasion of the Body Snatchers
"There was nothing to hold onto - except each other."
Approved
1956
1 hr 20 min
92
Invasion of the Body Snatchers from 1956 is a science fiction horror film directed by Don Siegel, starring Kevin McCarthy, Dana Wynter, and Larry Gates. The film is based on a novel, The Body Snatchers, by Jack Finney. It explores the idea of alien invasion, although it can also be interpreted as a commentary on conformity and McCarthyism.
The story is set in the small town of Santa Mira, California, where the protagonist, Dr. Miles Bennell (McCarthy), returns from a conference to find that a number of his patients are behaving strangely. They claim that their loved ones are no longer themselves, but rather imposters that have replaced them while they sleep. Bennell dismisses these stories at first, but as more and more people seem to be affected, he starts to investigate.
Bennell enlists the help of his former girlfriend, Becky (Wynter), who is a romantic interest in the film. Together, they discover that the townspeople are being replaced by alien plant-like pods, which grow into exact duplicates of the humans they replace. The pods are capable of reproducing every detail of a person's appearance, memories, and personality, but they lack human emotion and empathy.
Bennell and Becky witness the transformation of several townspeople into pod people and begin to realize that the invasion is spreading rapidly. They try to warn the authorities and organize a resistance, but they are met with skepticism and distrust. The pod people, who have a hive mind and act as a collective, are determined to eliminate the remaining humans and create a new society without emotions, creativity, or individuality.
The film creates a claustrophobic atmosphere of paranoia and fear, as Bennell and Becky struggle to stay awake and escape detection while the pod people close in on them. The film's climax, set in a greenhouse where the pods are grown and harvested, is a tense and thrilling sequence, where the protagonists face the alien threat head-on.
Invasion of the Body Snatchers has been interpreted as a reflection of the Cold War era, with its themes of infiltration, conformity, and loss of identity. The film's subtext can also be read as a criticism of the McCarthy era and the Red Scare, where loyalty tests and accusations of disloyalty were used to target suspected subversives. The film's ending, which is ambiguous and open-ended, leaves the audience with a sense of unease and suspicion, inviting them to question the nature of reality and the dangers of conformity.
The film received critical acclaim upon its release and has become a classic of the science fiction and horror genre. It has been remade several times, with varying degrees of success, but the original version remains a landmark of the genre, praised for its atmosphere, its social commentary, and its chilling portrayal of an invasion from within. Invasion of the Body Snatchers is a must-see for fans of science fiction and horror, as well as for those interested in the history of cinema and cultural criticism.
Invasion of the Body Snatchers is a 1956 horror movie with a runtime of 1 hour and 20 minutes. It has received outstanding reviews from critics and viewers, who have given it an IMDb score of 7.7 and a MetaScore of 92.