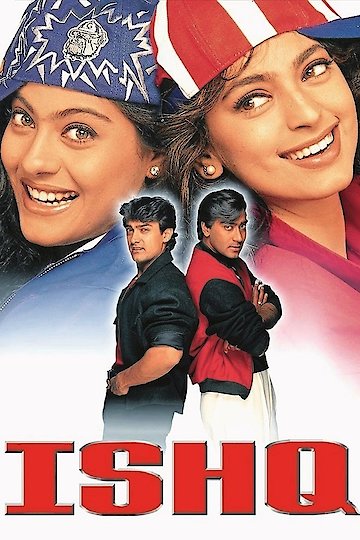 Watch Ishq
NR
1997
2 hr 53 min
Ishq is a romantic comedy film directed by Indra Kumar and released in 1997. The movie stars Aamir Khan, Ajay Devgn, Juhi Chawla, and Kajol in lead roles. It was an instant hit with audiences, grossing over 500 million at the box office. The story revolves around four close friends - Raja (Aamir Khan), Prem (Ajay Devgn), Madhu (Juhi Chawla), and Kajal (Kajol). Raja and Prem are pranksters who constantly play practical jokes on each other. Meanwhile, Madhu and Kajal are best friends who have opposite personalities - Madhu is more outgoing and confident, while Kajal is shy and reserved.
Raja and Madhu work at the same advertising agency and fall in love. Prem and Kajal, on the other hand, initially clash due to their different personalities but end up falling in love too. However, their happiness is short-lived as Raja's father (Dalip Tahil) disapproves of Madhu's choice of career and threatens to disinherit him if he marries her. Similarly, Kajal's father (Sadashiv Amrapurkar) is against her relationship with Prem, who he sees as a lazy and irresponsible person.
To overcome these obstacles, Raja and Prem devise a plan to kidnap Kajal and Madhu's fathers and force them to agree to their marriages. However, things take a hilarious turn when they accidentally kidnap a don instead (Gulshan Grover) instead of Kajal's father. This leads to a series of misunderstandings and comedic situations.
The movie features some iconic songs, including the chartbuster 'Neend Churayi Meri' and the catchy 'Humko Tumse Pyaar Hai'. The chemistry between the lead actors is palpable, making it one of the most entertaining romantic comedies of its time.
Aamir Khan shines in his portrayal of Raja, the witty and charming prankster who will go to any lengths to win his lady love. Ajay Devgn provides the perfect foil as Prem, the more serious and mature of the two. Juhi Chawla and Kajol bring their own unique flair to their roles, creating a perfect balance between the two female leads.
Overall, Ishq is a perfect blend of romance, comedy, and drama. It will keep you entertained from start to finish with its witty dialogues, captivating performances, and memorable soundtrack. It remains a classic Bollywood film that is sure to win the hearts of audiences for years to come.