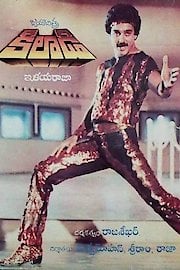 Watch Kaakki Sattai
1985
2 hr 23 min
Kaakki Sattai is a 1985 Tamil-language action-thriller movie starring Kamal Haasan, Ambika, and Sathyaraj in the lead roles. The film revolves around a young, honest police officer named Mathimaran, played by Kamal Haasan, who is assigned a challenging task of solving the mystery behind the high-profile murder of a top ranking police officer.
The movie starts with Mathimaran, a recent police academy graduate, taking up his first assignment in the city. He is optimistic and enthusiastic about his job and desires to make a positive impact on society. His seniors, however, take his zeal as an act of naivety and leave him with menial tasks. But Mathimaran, who is determined to do something worthwhile, gets a chance to prove his worth when an honest IPS officer is murdered while investigating a drug racket.
The story then moves on to showcase the horrific underworld that runs in the city. With various criminal gangs and powerful drug lords, the police force seems to be losing its grip on the city's law and order. As the investigations progress, Mathimaran realizes that the murder of the IPS officer is much more profound than what it seems to be. The clues lead him to a big drug lord, who has links with top politicians and high-ranking police officials.
Mathimaran then discovers that the drug lord owns a rehabilitation center, and using that as a façade, he runs his illegal business. Mathimaran, along with a few other honest police officers, then devise a plan to catch the drug lord red-handed. The thrilling story moves on to showcase how Mathimaran and his dedicated team not only catch the drug lord but also dismantle the entire drug racket that has been operating in the city.
In the course of his investigations, Mathimaran also meets Divya, played by Ambika, who works in the rehabilitation center. Divya has her skeletons in the closet, and as she slowly falls for Mathimaran, she opens up and shares her past with him. The romantic sub-plot adds a touch of emotion to the movie, and the chemistry between Kamal Hassan and Ambika is refreshing.
Sathyaraj, who plays the role of 'Dr. Alexander,' the main antagonist, delivers a splendid performance. His portrayal of a ruthless drug lord who has no qualms in playing with human lives is chilling. Kamal Haasan, who portrays a righteous and fierce police officer, adds depth and grit to his character. His portrayal of an idealistic cop who is committed to his job and wants to restore the lost glory of the police force is applaudable.
The movie's direction and screenplay are top-notch, and the music by Illayaraja is a treat to the ears. The songs "Namma Singaari," "Thendralile Mithanthu," and "Ellorum Nalam Vaazha" are still popular among audiences who appreciate classic Tamil music. The cinematography by Thangar Bachan is brilliant, and the action sequences are well-choreographed.
In conclusion, Kaakki Sattai is a classic Tamil movie that showcases the grit and determination required to fight against corruption and injustice. The movie sends a strong message about the importance of honesty, integrity, and fearlessness, especially among those responsible for maintaining law and order. The film's soulful music, intense performances, gripping storyline, and excellent direction make it a must-watch for all Tamil movie lovers.