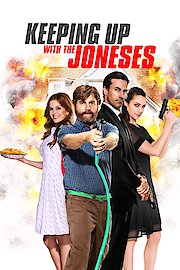 Watch Keeping Up with the Joneses
"They lived a normal life... Until the Joneses moved in."
PG-13
2016
1 hr 45 min
34
The Gaffneys are a normal suburban couple who become intrigued by their seemingly perfect new neighbors the Joneses. Their lives have been boring up until this point, but as they become suspicious of their new neighbor's all too unbelievable perfect lifestyle they discover that the Joneses are actually governmental secret agents and their lives are flipped upside down when they become mixed up in an international espionage plot. They now find themselves running straight into danger, carrying loaded weapons, and fighting bad guys in order to save their lives. The new found excitement and adventure might just be exactly what they needed.