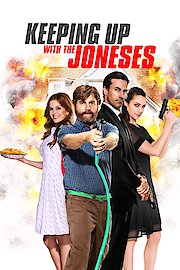 Watch Keeping Up with the Joneses
"They lived a normal life... Until the Joneses moved in."
PG-13
2016
1 hr 45 min
34
Keeping Up with the Joneses is a 2016 action-comedy film directed by Greg Mottola and stars an ensemble cast including Zach Galifianakis, Isla Fisher, Jon Hamm, and Gal Gadot. The movie follows the lives of a typical suburban couple, played by Galifianakis and Fisher, who stumble upon a mysterious couple, played by Hamm and Gadot, who happen to be spies. The film begins with Jeff Gaffney (Galifianakis) and Karen Gaffney (Fisher), a married couple living in the quiet neighborhood of Glenview, putting their house on the market, as their two sons are leaving the nest. Upon meeting their new neighbors, Tim and Natalie Jones (Hamm and Gadot), Jeff and Karen become fascinated by the couple's apparent perfection, athleticism, and beauty. As the couple attempts to befriend the Joneses, they gradually uncover that the Joneses are not what they seem. Through a series of comedic mishaps, Jeff and Karen uncover Tim and Natalie's secret, realizing that they are actually spies on a mission in their suburban town. Jeff and Karen become embroiled in a thrilling adventure to help the Joneses complete their mission, and in the process, save their neighborhood from danger. The chemistry between the four principal actors is natural and believable, with Galifianakis playing an awkward, bumbling husband and Fisher playing his enthusiastic and curious wife. Hamm and Gadot perfectly embody the suave and sophisticated spy couple, with Hamm in particular showcasing his comedic talents in addition to his dramatic skills. The interactions between the four characters are hilarious, creating uproarious laughter throughout the movie. The cinematography also deserves a special mention, as the film makes the most out of its suburban setting, using the everyday setting to enhance the humor and suspense of the film. The action scenes are expertly choreographed and are complemented by the film's high-quality editing. The film's plot is cleverly woven, taking the audience on a roller coaster ride of fun and action. The film injects humor at every opportunity, whether it be through Jeff's awkward conversations with Tim or Karen's attempts to impress her new neighbor. The movie also makes subtle commentary on suburban lifestyles, highlighting the mundanity and routine of everyday life. Overall, Keeping Up with the Joneses is an entertaining movie that offers a unique blend of comedy, action, and adventure. The film is well-paced, with never a dull moment, and features a talented ensemble cast that breathes life into their respective characters. The movie will appeal to fans of the spy genre as well as those who enjoy comedy with a hint of suspense.