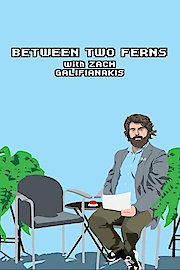 Watch Between Two Ferns
TV-14
2012
1 Season
Between Two Ferns is a hilarious mock talk show in which comedian Zach Galifianakis interviews various celebrities. The show premiered in 2008 on Comedy Central and quickly gained a cult following due to its absurd and off-putting humor. The set of the show comprises two ferns and a table, making for an awkward and unprofessional atmosphere that perfectly complements the tone of the show. The interviews always begin with Galifianakis introducing his guest with a sarcastic comment or insult, setting the tone for a tense and uncomfortable exchange.
The standout episode of the show features Jon Hamm, who plays himself as a pretentious actor who refuses to answer any of Galifianakis's bizarre questions. The cringe-worthy exchange is a perfect example of the show's humor, and Hamm's deadpan delivery only adds to the comedy.
Another noteworthy episode from the show's early days features Bradley Cooper, who seems to be in on the joke and plays along with Galifianakis's absurd questions and insults. Cooper's easygoing manner and good humor make for a hilarious episode, and the chemistry between the two comedians is undeniable.
Throughout the series, Galifianakis showcases his impeccable timing and deadpan humor, as well as his willingness to take risks and push boundaries. His guests are always in on the joke, but the humor comes from the tension and awkwardness of the exchange, as well as the unexpected turns the interviews take.
Between Two Ferns has become an important cultural touchstone, inspiring countless parodies and imitations, as well as launching Galifianakis's career to new heights. The show perfectly captures the absurdity of modern celebrity culture, and its humor is as relevant today as it was in 2008.
Overall, Between Two Ferns is a classic example of the absurd and offbeat humor that has made Comedy Central a cultural force over the years. Its combination of smart writing and impeccable performances make it a must-watch for fans of alternative comedy, and its influence can still be seen in the comedy landscape today.
Between Two Ferns is a series that is currently running and has 1 seasons (21 episodes). The series first aired on May 6, 2012.