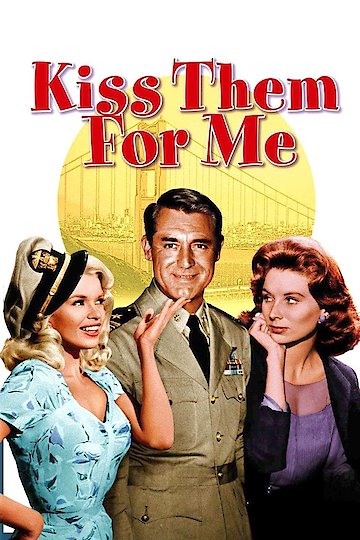 Watch Kiss Them for Me
"They tried so hard ... so very hard ... not to fall in love !"
Approved
1957
1 hr 45 min
In 1957, the film Kiss Them for Me was released, featuring an all-star cast including the legendary Cary Grant, Jayne Mansfield, and Leif Erickson. The film, directed by Stanley Donen and based on the novel Shore Leave by Frederic Wakeman, tells the lighthearted story of three World War II Navy men on leave in San Francisco. Cary Grant stars as Lt. Walter Wallace, the playboy of the group who is eager to take advantage of his limited time on land. Wallace has a reputation as a ladies' man and spends most of his time chasing after women instead of focusing on his duties as a naval officer.
Jayne Mansfield plays the beautiful actress Alice Kratzner, who is in town to perform a USO show for the troops. The sailors quickly become enamored with Alice, and she becomes the object of their affections.
Leif Erickson rounds out the trio as Commander Billy Adams, the responsible and level-headed leader who tries to keep Wallace and his partner, Lt. (JG) McCann (played by Ray Walston), in line. However, Adams also has a soft spot for Alice and finds himself competing with Wallace for her attention.
As the sailors enjoy their brief respite from military life, they find themselves embroiled in all sorts of misadventures. They attend lavish parties, participate in parades, and even sneak onto a movie set to meet Alice. Along the way, they also learn valuable lessons about loyalty, responsibility, and love.
Kiss Them for Me captures the excitement and energy of post-war America, with its vibrant fashion, bustling nightlife, and cultural milestones. The film is a playful and entertaining romp that showcases the charm and wit of its leading man, Cary Grant, and the sultry allure of Jayne Mansfield.
Grant is at his suave and debonair best as Lt. Wallace, delivering his lines with impeccable timing and effortlessly exuding a sense of cool confidence. Mansfield, meanwhile, is a stunning revelation, holding her own against Grant's seasoned charisma with her own brand of glamour and sensuality.
The film's supporting cast also shines, with Walston providing comic relief as the bumbling McCann and Erickson bringing a sense of gravitas and authority to his role. Together, the three sailors create a dynamic and likable trio that viewers can't help but root for.
Kiss Them for Me is a must-see for fans of classic Hollywood films, offering a glimpse into a bygone era of American culture and entertainment. It is a testament to the enduring appeal of iconic actors like Cary Grant and their ability to capture the hearts and imaginations of audiences for generations to come.