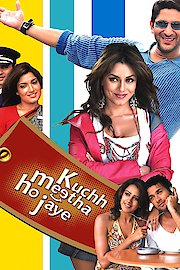 Watch Kuch Meetha Ho Jaye
Kuch Meetha Ho Jaye is a romantic comedy film from 2005 that stars Arshad Warsi, Mahima Chaudhry, and Parvin Dabas in the lead roles. The film is directed by Samar Khan and produced by Sahara One Motion Pictures. The story of Kuch Meetha Ho Jaye revolves around the lives of two strangers, Dev and Preeti. Dev is a struggling musician who is trying to make it big in the industry, while Preeti is a successful, independent woman who runs her own bakery. The two of them meet by chance when Dev performs at Preeti's bakery and they hit it off.
As they get to know each other, Dev and Preeti realize that they have a lot in common, and their friendship slowly turns into love. However, things get complicated when Preeti's ex-boyfriend, Rohit, comes back into the picture, and Dev finds out that Rohit is actually his childhood friend.
Despite the challenges they face, Dev and Preeti are determined to make their relationship work. They go on a series of romantic dates, including a trip to the beach and a picnic in the park, and even perform a duet together at a music competition.
Along the way, Dev's music career starts to take off, and he gets a big break when he is offered a chance to perform at a major concert. However, when Preeti's bakery starts to struggle, she finds herself torn between her love for Dev and her responsibilities as a business owner.
Ultimately, Dev and Preeti must decide whether their love is strong enough to overcome the obstacles in their way. Will they be able to find happiness together, or will their differences tear them apart?
Kuch Meetha Ho Jaye is a feel-good romantic comedy that celebrates the power of love and the importance of following your dreams. With its catchy soundtrack, charming performances, and witty dialogue, it is sure to leave audiences with a smile on their faces.
Arshad Warsi delivers a nuanced performance as Dev, capturing both his carefree spirit and his inner turmoil as he struggles to make it in the music industry. Mahima Chaudhry is equally impressive as Preeti, bringing depth and depth to her character as she navigates the complexities of her personal and professional life.
Parvin Dabas shines as Rohit, bringing a touch of both charm and conflict to his character as he tries to win back Preeti's heart. Supporting performances from Tinnu Anand, Jagdeep, and Kanwaljit Singh add to the film's comedic charm.
Overall, Kuch Meetha Ho Jaye is a delightful romantic comedy that is sure to entertain audiences of all ages. With its engaging story, charismatic performances, and infectious music, it is a film that will leave a lasting impression.
Kuch Meetha Ho Jaye is a 2005 drama. It has received mostly poor reviews from critics and viewers, who have given it an IMDb score of 3.4.