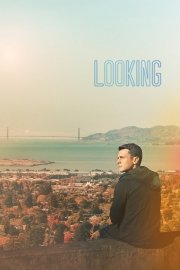 Watch Looking: The Movie
"The End Is A New Beginning"
TV-MA
2016
1 hr 25 min
Looking: The Movie is a 2016 American comedy-drama film directed by Andrew Haigh and written by Michael Lannan and Andrew Haigh. It serves as a finale to the HBO television series Looking, which aired for two seasons from 2014 to 2015. The film follows the lives of three gay men – Patrick, Dom, and Agustín – as they navigate their complicated relationships and personal struggles in San Francisco. Patrick (played by Jonathan Groff) is a video game designer who is still reeling from his failed relationship with his ex-boyfriend. He is struggling to move on and find love again, while also dealing with the challenges of being a successful career-driven gay man in a competitive industry. Dom (played by Murray Bartlett) is a waiter and aspiring entrepreneur who is trying to launch his own chicken restaurant while also dealing with the consequences of his decisions from the past. He is also trying to find love and commitment, but he seems to struggle with commitment issues. Lastly, Agustín (played by Frankie J. Alvarez) is an artist who is going through a personal crisis. After breaking up with his boyfriend, he finds himself struggling with his career and his sense of purpose in life. He now is trying to figure out who he truly is and what he wants from life. The movie picks up several months from where the series finale left off, as the three men strive to keep their friendships intact while also dealing with the changes and challenges of their lives. For Patrick, it means grappling with his unresolved feelings for his ex-boyfriend and facing the reality that he may never get back together with him. He meets a handsome British contractor named Richie (played by Raúl Castillo) and begins to consider whether he's ready to move on and start a new chapter in his love life. For Dom, he finally launches his restaurant and becomes more emotionally involved with Lynn (played by Scott Bakula), a man he was seeing casually in the series. Their relationship takes a turn that neither was expecting, leading Dom to question what he really wants in the future and whether he is ready to commit. Meanwhile, Agustín continues to struggle with his identity and sense of purpose, even as he starts a new relationship with CJ (played by Chris Perfetti). He considers moving out of San Francisco to pursue his art career and tries to figure out what his personal and artistic goals are. Throughout the course of the film, the three men encounter old friends, new love interests, and fresh challenges that put their bonds of friendship to the test. However, in the end, they come to realize that their friendship is the most important thing they have, and that they need each other in order to face the future and all the obstacles it may hold. Looking: The Movie is a thoughtful and heartfelt conclusion to the series that explores the highs and lows of modern gay life in San Francisco. It's a beautifully shot film with strong performances from its leads and an engaging story that is both funny and poignant. Whether you're a fan of the original series or just looking for a compelling drama about modern relationships, it's definitely worth your time.