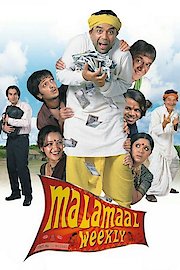 Watch Malamaal Weekly
2006
2 hr 40 min
Malamaal Weekly is a 2006 Indian comedy film directed by Priyadarshan and starring an ensemble cast including Paresh Rawal, Om Puri, Riteish Deshmukh, and Rajpal Yadav. The film revolves around the life of the inhabitants of a tiny village called Laholi in Maharashtra, India. The plot of the film is centered around the weekly lottery system that has been introduced in the village by the government. The ticket sellers, who are a group of friends, go out of their way to convince the villagers to buy tickets from them. One of their customers, an impoverished farmer named Lilaram (Paresh Rawal), accidentally finds out that he has won the lottery, but is unable to locate the ticket due to a misunderstanding.
The rest of the film follows the madcap adventures of Lilaram and his friends as they try to locate the missing ticket, and get embroiled in a web of lies and deceit along the way. As more and more people come to know about the missing ticket, everyone begins to scheme and plot against each other, leading to a hilarious and unpredictable climax.
The film expertly mixes slapstick comedy with farcical situations and clever wordplay to create a rib-tickling comedy that is a perfect representation of Priyadarshan's style. The performances by the entire cast are top-notch, with Paresh Rawal delivering a standout performance as the bumbling but determined Lilaram.
One of the film's greatest strengths is its portrayal of rural life in India, with all its quirks and idiosyncrasies. From local superstitions to the dynamic between the village head and its inhabitants, the film provides an insightful glimpse into the lives of rural folk in India. The supporting characters, played by veteran actors such as Om Puri and Rajpal Yadav, add depth and nuance to the film, with each one bringing their unique brand of comedy to the table.
The music of the film, composed by Uttankk V. Vorra, perfectly complements the whimsical tone of the film, with songs like "Jab Mein Chota Bacha Tha" and "Chak De Phatte" serving as memorable highlights.
Overall, Malamaal Weekly is a delightful comedy that is sure to bring a smile to your face. With its expertly crafted story, hilarious performances, and clever writing, the film is a must-watch for fans of Indian comedy movies.