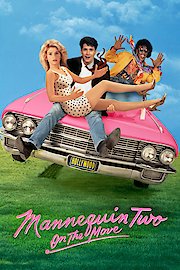 Watch Mannequin Two: On the Move
"A lively comedy about a living doll!"
PG
1991
1 hr 35 min
31
Mannequin Two: On the Move is a 1991 romantic comedy starring Kristy Swanson as Jessie, a department store mannequin who comes to life, and William Ragsdale as Jason, a young artist who falls in love with her. The film is a sequel to the 1987 hit Mannequin and picks up years later, with a new cast of characters. The story begins with Jessie, a mannequin who is tired of her lifeless existence in a department store window. She longs for something more, and her wish is granted when she is brought to life by a magical necklace, a gift from her mother. Jessie is now a living, breathing woman with a thirst for adventure and a desire to find love.
Enter Jason, a struggling artist who is working as a window dresser in the same department store as Jessie. The two quickly fall in love, but their relationship is complicated by the fact that Jessie can only come to life when she is alone with Jason. Together, they embark on a series of madcap adventures, trying to keep Jessie's true identity hidden from the world.
Their journey takes them through the streets of Philadelphia, where they are pursued by a ruthless gang of jewel thieves led by the evil Count Spretzle (played by Terry Kiser). Along the way, they are helped by a colorful cast of characters, including Hollywood Montrose (Meshach Taylor), a flamboyant window designer who becomes their ally and confidant.
As the story unfolds, we see Jessie and Jason's relationship deepen, despite the obstacles they face. But when Jessie's necklace is stolen by Count Spretzle, she must confront her true identity and the reality of her situation. In a thrilling showdown, Jessie and Jason must work together to defeat the villains and find a way to live happily ever after.
Mannequin Two: On the Move is a charming and lighthearted romantic comedy that captures the spirit of its predecessor while bringing new energy and excitement to the story. With a talented cast, a witty script, and plenty of laughs, this film is a joy to watch and a true classic of the genre.
Mannequin Two: On the Move is a 1991 fantasy movie with a runtime of 1 hour and 35 minutes. It has received mostly poor reviews from critics and viewers, who have given it an IMDb score of 4.4 and a MetaScore of 31.