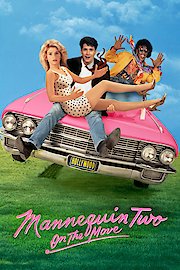 Watch Mannequin Two: On the Move
"A lively comedy about a living doll!"
PG
1991
1 hr 35 min
31
Mannequin Two: On the Move is a story about a female mannequin that comes to life. A young male mall worker in a department store comes across this mannequin that magically comes to life when a necklace is removed from around her neck. The necklace represents a spell that was cast on the girl more than a 1,000 years ago. It is up to the young man to rescue the girl. The movie plays up the romantic attraction that ensues between the mannequin and the intern from the store. It is a romantic comedy with magical twists and turns.