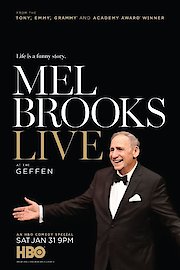 Watch Mel Brooks Live at the Geffen
"Life is a funny story."
TV-PG
2015
59 min
Mel Brooks Live at the Geffen, released in 2015, is a hilarious and entertaining one-man show featuring the legendary filmmaker and comedian, Mel Brooks. The show, which was recorded live at the Geffen Playhouse in Los Angeles, offers a rare and intimate glimpse into the wit and charm of Brooks, as he regales the audience with stories from his life and career, and engages in a lively conversation with his dear friend and fellow comedian, Carl Reiner. The show starts with Brooks walking onto the stage to a standing ovation from the audience, which is made up of fans from across the generations who have come to hear him speak. The stage is simple and elegant, with just a chair and a microphone, but the energy in the room is electric, as everyone eagerly waits to hear what he has to say. Brooks begins by recounting his experiences growing up in Brooklyn, New York, and the influence that the Yiddish theater had on his comedic sensibilities. He talks about his time in the Army during World War II, where he was sent to Europe as part of the 1104th Engineer Combat Battalion, and how he got started in show business, first as a writer for Sid Caesar's Your Show of Shows, and later as a director and performer in his own right. Throughout the show, Brooks shares anecdotes and jokes from his films, including The Producers, Blazing Saddles, and Young Frankenstein, as well as his work on the television series Get Smart. He talks about his collaborations with some of the biggest names in show business, including Gene Wilder, Madeline Kahn, and Richard Pryor, and pays tribute to the many legends who have influenced his work, from Charlie Chaplin to Mel Blanc. One of the highlights of the show is when Brooks is joined on stage by Reiner, and the two engage in a lively and hilarious conversation about their long friendship and creative partnership. They share stories and jokes, and at one point even break into an impromptu rendition of "The 2000 Year Old Man" routine, which they first performed together over 50 years ago. Throughout the show, Brooks demonstrates his mastery of physical comedy, using his body and voice to create a wide range of characters and personas, from a Jewish grandmother to a Nazi officer. He tells jokes that are both timeless and timely, poking fun at everything from politics to religion to popular culture. Despite his advanced age (Brooks was 88 at the time of the performance), he shows no signs of slowing down, and his energy and enthusiasm are infectious. He engages with the audience, asking for their questions and feedback, and even performs some musical numbers, including a hilarious rendition of "Puttin' On the Ritz" from Young Frankenstein. In conclusion, Mel Brooks Live at the Geffen is a must-see for fans of comedy and cinema. It offers a unique and intimate look at the life and career of one of the greatest entertainers of our time, and showcases the wit, charm, and irreverence that have made him a beloved icon for over half a century. Whether you're a diehard fan or just looking for a good laugh, you won't be disappointed by this truly unforgettable show.