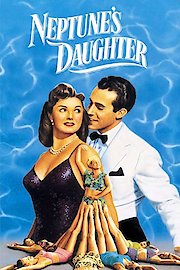 Watch Neptune's Daughter
"With a Great Cast of Stars! Bathing Beauties! Songs and Spectacle!"
NR
1949
1 hr 33 min
When bathing beauties go hunting for husbands at the local polo club, things are bound to go hysterically wrong in this comic musical extravaganza. Esther Williams stars as Eve Barrett, the owner and chief model of a bathing suit manufacturer who sees both a business and social opportunity at the local polo club. But Eve's ditzy younger sister, Betty (Betty Garrett), falls for the club's masseur, Jack (Red Skelton), whom Betty believes to be polo team captain José O'Rourke. As Eve tries to clear things up--and Jack desperately tries to act like a dashing polo player--love blooms between Eve and the real O'Rourke (Ricardo Montalban). Keenan Wynn and bandleader Xavier Cugat also star, and Mel Blanc gives a rare live-action performance. Winner of an Academy Award for Best Music, Original Song, Frank Loesser's "Baby It's Cold Outside."