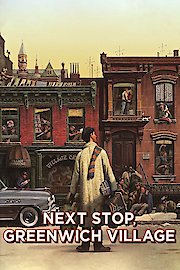 Watch Next Stop, Greenwich Village
"1953 Was a Good Year for Leaving Home"
R
1976
1 hr 51 min
Next Stop, Greenwich Village is a 1976 dramedy film about a young Jewish man named Larry Lapinsky, played by Lenny Baker, who moves out of his parents' Brooklyn home and into an apartment in Greenwich Village to pursue his dream of becoming an actor. The film takes place in 1953 and has a nostalgic feel, as the viewer is transported back to a time when New York City was a drastically different place. Larry's journey to success is a rocky one; he struggles to find work and is even kicked out of his acting class. However, he is surrounded by a colorful cast of characters, including his eccentric upstairs neighbor, played by actress Shelley Winters. The film is based on the real-life experiences of writer and director Paul Mazursky, who drew from his own time as a struggling actor in Greenwich Village in the 1950s. As a result, the film has a sense of authenticity, with its honest portrayal of the joys and setbacks of trying to make it in show business. One of the film's most significant themes is the sense of community found in Greenwich Village. As Larry navigates the ups and downs of his acting career, he becomes entangled in a web of relationships with the other artists living in his building. As they support each other through their respective struggles, Larry begins to find a sense of belonging and purpose in his new neighborhood. Another central theme of the film is Larry's struggle to escape his overbearing mother's influence. Shelley Winters' character ultimately serves as a sort of surrogate mother figure to Larry, offering him the supportive guidance he lacks from his own family. The performances in Next Stop, Greenwich Village are exceptional. Lenny Baker is particularly excellent as Larry, capturing the character's wide-eyed eagerness and boyish charm. Shelley Winters is also a standout, bringing a sense of humor and pathos to her portrayal of the heavily accented, egocentric landlady. In addition to Baker and Winters, the film features a supporting cast of talented actors, including Ellen Greene, Christopher Walken, and Lois Smith. These characters all bring depth and nuance to the world of Greenwich Village, helping to paint a rich tapestry of 1950s New York City. Next Stop, Greenwich Village is not without its flaws, however. Some critics have noted that the film can feel aimless at times, lacking a clear narrative direction. The film's attempts at humor can also be hit-or-miss, with some jokes feeling dated or out-of-place. Despite these minor criticisms, Next Stop, Greenwich Village remains a charming and engaging film that captures the spirit of a bygone era. Its themes of community, artistic passion, and individual struggle are timeless, making it a film that still resonates with audiences today.