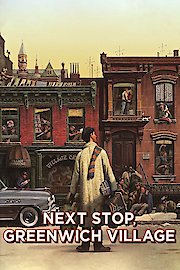 Watch Next Stop, Greenwich Village
"1953 Was a Good Year for Leaving Home"
R
1976
1 hr 51 min
Larry Lapinsky is a recent college graduate who moves from his home borough of Brooklyn to the cosmopolitan Greenwich Village, the center of the creative scene in 1953 New York. Although he dreams of becoming an actor his traditional Jewish mom nags him to get a steady regular job. Lenny soon settles into his new life among the poets, writers, artists, and eccentrics of the bohemian Village scene while trying to maintain a relationship with his girlfriend Sarah. Now all he needs to do is make it big while fending off his overprotective mother's worries and advice.