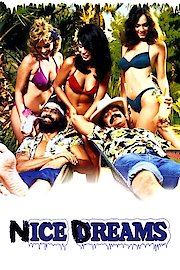 Watch Nice Dreams
"The story of two enterprising young men who make an amazing amount of money selling ice cream."
R
1981
1 hr 28 min
54
Nice Dreams is a 1981 stoner comedy directed by Tommy Chong and starring Cheech Marin, Tommy Chong, and Benita Barrie. The movie follows the hilarious and outrageous misadventures of Cheech and Chong, two marijuana-loving friends, as they try to keep their heads above water in the drug business. The movie starts with Cheech and Chong selling a potent brand of marijuana that they call "Ice Cream". Business is booming and they quickly become the talk of the town. But things take a turn when a rival drug lord, played by Stacy Keach, wants a piece of their action. He sends his henchmen to intimidate Cheech and Chong and take over their business.
Not ones to back down, Cheech and Chong come up with a plan to make even more money by growing their own marijuana plants. They set up a makeshift greenhouse in a friend's house and start cultivating their own crop. But things quickly spiral out of control when Cheech starts eating the plants and hallucinating.
As Cheech becomes increasingly delusional, he starts seeing a giant marijuana bud named "George" who tells him he needs to find a magical strain of weed called "Panama Red". This sends Cheech and Chong on a wild goose chase through Los Angeles, with the police hot on their trail.
Along the way, they encounter a cast of characters including a transgender cab driver, a roller-skating pimp, and a group of nuns. They attend a fancy party and accidentally set off the sprinkler system, causing chaos. They also end up at a rock concert where they join the band on stage and perform a hilarious rendition of "Earache My Eye".
Despite their many misadventures, Cheech and Chong manage to find the elusive Panama Red and return with it to their greenhouse. They celebrate their success by smoking a joint the size of a telephone pole and watch as their plants come to life and start playing music.
Nice Dreams is a classic Cheech and Chong movie that showcases their unique brand of humor and love of marijuana. The movie is filled with hilarious one-liners, physical comedy, and outrageous situations. The chemistry between Cheech Marin and Tommy Chong is undeniable and their comedic timing is impeccable.
The movie also features a great soundtrack with songs by Cheech and Chong, Blondie, and Alice Bowie (a persona created by Cheech and Chong).
Overall, Nice Dreams is a must-see for fans of Cheech and Chong and anyone who loves a good stoner comedy. It's a fun, light-hearted movie that doesn't take itself too seriously and is guaranteed to make you laugh.
Nice Dreams is a 1981 comedy with a runtime of 1 hour and 28 minutes. It has received moderate reviews from critics and viewers, who have given it an IMDb score of 6.1 and a MetaScore of 54.