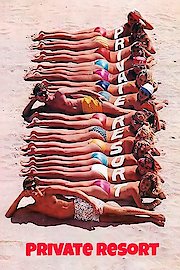 Watch Private Resort
"Spend a weekend with no reservations!"
R
1985
1 hr 22 min
34
Private Resort is a 1985 comedy film directed by George Bowers and written by Gordon Mitchell, Ken Segall, and Alan Wenkus. The film stars Rob Morrow, Johnny Depp, and Emily Longstreth in lead roles. It is a comedy film that revolves around two young men who go to a private resort in search of girls, but end up getting into all sorts of trouble. The story follows two teenage boys, Jack and Ben, who head off to a luxurious private resort in Florida for a weekend of partying, girls, and fun in the sun. As soon as they arrive, they realize that they are going to have to work hard to attract the attention of the beautiful girls, who seem more interested in high rollers with plenty of cash. However, the boys don't let this setback deter them and decide to put their cunning and charm to work, devising ever more elaborate schemes to get themselves noticed. As the weekend unfolds, danger and chaos become the norm as the boys end up in all sorts of sticky situations. Along the way, they encounter a whole host of wacky characters, including a thieving vacuum cleaner salesman, a randy housemaid, a beautiful Russian spy, and a group of gun-toting gangsters. All the while, their increasingly wild escapades put them at risk of being exposed and kicked out of the resort for good. The film is a classic 1980s comedy, full of slapstick humor and ridiculous situations. The chemistry between the two leads, Rob Morrow and Johnny Depp, is undeniable, and their natural comedic timing blends perfectly with the zany storyline. There are plenty of laugh-out-loud moments, from outrageous pranks and slapstick catfights to some genuinely unexpected twists and turns. The movie's location is also a major draw, with the picturesque resort providing a stunning backdrop to the boys' escapades. The camera work is top-notch, and the shots of clear blue sea, sun-soaked beaches, and luxurious accommodation make the viewer feel as though they are right in the thick of the action. Overall, Private Resort is a wacky, madcap comedy that is sure to leave its viewers amused and entertained. The film is firmly rooted in its 1980s era, with its fashion, music, and attitudes reflecting the pop culture of the time. It is a fun, lighthearted movie that is perfect for anyone looking for a good laugh and some feel-good escapism. The performances of the lead actors are noteworthy, with both Morrow and Depp delivering some of their most memorable early roles. Emily Longstreth is also delightful as the object of the boys' affections, adding another layer of humor and warmth to the film. In conclusion, Private Resort is a fun-filled 80s comedy that is perfect for anyone looking for a little bit of escapism. The film's lighthearted tone, engaging cast, and beautiful location make it an enjoyable watch that is sure to bring a smile to viewers' faces.