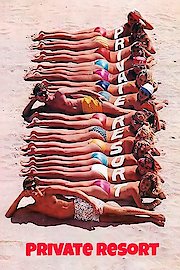 Watch Private Resort
"Spend a weekend with no reservations!"
R
1985
1 hr 22 min
34
The movie is called "Private Resort" is a 1985 comedy film. It was directed by George Bowers and written by Gordon Mitchell, Ken Segall, and Alan Wenkus. Rob Morrow makes his debut in the film as an unknown act; while Johnny Depp and Andrew Dice Clay are also in the movie. Ben and Jack are friends who are looking for beautiful/ rich women at a Miami resort because they are staying there for the weekend. The opening scene contains nudity, and there is sexual acts throughout the movie. You see a lot of woman's upper half as it is sexual. It is not hard to see why the men have sex on their mind because everyone is running around barely dressed. They have crashed the resort in the hopes of meeting women. Ben is interested in falling in-love with his soul mate, but Jack just wants to have sex. Hector Elizondo is a jewelry thief who wants to steal Amanda Rawling's diamond necklace. When Ben and Jack get on Maestro's bad side they have something to sweat about. Maestro provides the comedy relief; while Jack is always managing to get Ben into trouble. This movie was the third one in the series, and all three movies before it had "private" in the title. You will have view the film to see how it ends! The stars and character names of the movie are: Emily Longstreth as Patti, Karyn O'Bryan as Dana, Rob Morrow as Ben, Johnny Depp as Jack Marshall, Andrew Clay as Curt, Hector Elizondo as The Maestro, Dody Goodman as Mrs. Rawlings, Leslie Easterbrook as Bobbie Sue, Michael Bowen as Scott, Hilary Shepard Turner as Shirley, and Jill Selkowitz as Edna. All of the actors did a good job with their parts! You will find yourself cracking up throughout the movie because there are some funny parts. This is a classic 1980's sexual comedy as there were many of these kinds of movies during this time. Many of the reviews are positive because people did not have high expectations for the film. The movie came out in theaters in May 1985, and it is rated "R." It is considered to be a comedy though. It was distributed by TriStar Pictures, and it is a total run time of one hour and 22 minutes. You know you got a good movie when you have still appreciate the movie 27 years later.