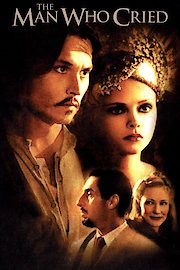 Watch The Man Who Cried
R
2000
1 hr 40 min
40
The Man Who Cried is a historical romantic drama film from 2000. It was directed by Sally Potter and features an all-star cast, including Christina Ricci, Cate Blanchett, and Oleg Yankovskiy. The story is set in the years leading up to World War II, and follows the journey of a young Jewish girl named Fegele (Ricci), who is forced to flee her small Russian village with her father after her mother is taken away by the Bolsheviks.
Fegele and her father travel to England, where they take refuge with distant relatives, and Fegele is renamed Suzie. As she adapts to her new surroundings, Suzie develops an interest in singing and is eventually accepted into a Parisian opera company where she meets the flamboyant and talented Lola (Blanchett), the temperamental tenor Dante (Yankovskiy), and the charming gypsy Cesar (Johnny Depp).
Against the backdrop of rising political tensions and the impending war, Suzie must navigate the complex emotions of love, loss, and identity. She is torn between her attraction to the enigmatic Cesar and the desire to uncover the truth about her past and her mother's fate.
As the war approaches, Suzie must make a choice that will determine her future and shape the course of her life. Will she stay with her new friends and pursue her dreams of singing, or will she risk everything to seek out her past and find her family?
The Man Who Cried is a visually stunning film with lush cinematography and a haunting musical score. It is a moving tale of love, loss, and the search for identity set against the backdrop of one of the most tumultuous periods in world history. With powerful performances by its talented cast, it is a film that will stay with you long after the credits roll.