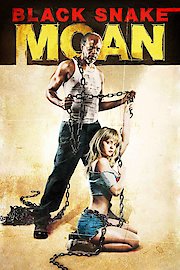 Watch Black Snake Moan
"To save his soul he must save hers."
R
2007
1 hr 57 min
52
Black snake moan is an epic and thrilling film that falls into the genre of drama. This excellent film was directed, as well as written by Craig brewer. Black snake moan was produced by Stephanie Allain and Jonathan Singletons and distributed by paramount vintage. This film stars many outstanding actors and actresses such as Samuel L. Jackson, Christina Rocco, and Justin Timberlake. This film is mainly focused on Lazarus and Rae. Lazarus has become a bitter and highly angry man do to his wife cheating on him and betraying him with his own brother. Lazarus is also a farmer, a former blues guitar player, and a very religious man. Rae on the other hand has a boyfriend named Ronnie who ends up getting deployed for the war. During Ronnie's deployment, Rae who is a nymphomaniac, has moments of casual sex with multiple people and severe drug abuse. One day, Ronnie's friend Gill tries to take advantage of Rae during one of her drug filled binges. But Rae has no interest in Gill and instead, begins to make fun of him and compares him negatively to another man. Gill becomes enraged and beats Rae, then dumps her on the side of the road believing she is dead. That following morning, Lazarus stumbles upon Rae and decides to take her back to his home. During the process of nursing her back to health, Lazarus visits a man named Tehrome who he assumes is the same man that beat her so badly. Lazarus discovers that Rae is a nympho and learns of her drug use instead. Several days pass and Rae begins to become delirious do to her fever and tries to runaway from Lazarus. To avoid her from fleeing again, Lazarus takes a strong, large chain and chains her to the radiator. Eventually Rae becomes coherent again, which is when Lazarus explains that he refuses to let her go until he cures her from her sinful ways and that it is his spiritual duty to do so. Furthermore, while Rae is being healed from her sinful ways, Ronnie has returned back from his deployment only to find Rae missing. Ronnie begins to go on a search to find his love. In this epic movie you will witness the healing process of Rae and the hardships she faces to get there. You will see Ronnie's conflicts with Gill and his continued search for Ronnie, as well as learn the true being inside each one of them, including Lazarus in this heartwarming movie.