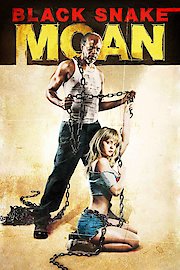 Watch Black Snake Moan
"To save his soul he must save hers."
R
2007
1 hr 57 min
52
Black Snake Moan is a 2006 drama film directed by Craig Brewer, starring Christina Ricci, Samuel L. Jackson, and Justin Timberlake. The movie is a raw and gritty tale of redemption, revolving around the lives of two broken characters living in rural Tennessee. The story begins with Rae (Christina Ricci), a young woman who grew up in a dysfunctional home, struggling to find her place in the world. She is deeply troubled, suffering from severe emotional and psychological trauma, and addiction. Her life spirals out of control when her boyfriend Ronnie (Justin Timberlake), a soldier heading off to serve in Iraq, breaks up with her, leaving her stranded and alone.
Enter Lazarus (Samuel L. Jackson), a deeply religious but troubled blues musician living in the same town as Rae. Lazarus is haunted by his own demons, primarily regrets over his past womanizing ways and his failed marriage. His life takes a new turn when he discovers Rae unconscious and beaten near his house.
Lazarus takes it upon himself to nurse Rae back to health, refusing to let her leave until she is clean and sober. In his bid to help her, he chains her to his radiator- a controversial move that has led to mixed reactions among the audience. To Lazarus, it is the only way to save her from herself and keep her on the path to redemption.
As Rae starts to recover, some of her secrets begin to surface, revealing the extent of her emotional scars. The movie delves into the painful moments of her past and the root cause of her destructive behavior. Lazarus becomes a pillar of strength for Rae, helping her to confront her inner demons, and regain control over her life.
At the heart of Black Snake Moan is the intense, sometimes uncomfortable, but ultimately redemptive relationship between Rae and Lazarus. The bond that develops between them is built on mutual trust, honesty and the shared experience of overcoming addiction. Despite their significant age difference and differing backgrounds, they become kindred spirits, both fighting for their own survival in a harsh, unforgiving world.
The film is beautifully shot, with the cinematography capturing the raw beauty of rural Tennessee. It is an immersive experience that places the audience directly in the lives of the characters, allowing us to experience their joys, sorrows, and personal struggles firsthand.
The soundtrack also plays a significant role in the movie, with Samuel L. Jackson performing his own renditions of blues classics. The music perfectly complements the themes of the movie, adding to its timeless, rustic charm.
Overall, Black Snake Moan is an intense, raw, and deeply affecting film that delves into the painful realities of addiction, trauma, and redemption. It bravely tackles difficult themes, and is not afraid to take risks. It features strong performances from the leads; Christina Ricci and Samuel L. Jackson, and is supported by a solid script, great direction, and stunning visuals. It is a movie that will leave a lasting impression on its viewers and is definitely worth the watch.
Black Snake Moan is a 2007 drama with a runtime of 1 hour and 57 minutes. It has received moderate reviews from critics and viewers, who have given it an IMDb score of 6.9 and a MetaScore of 52.