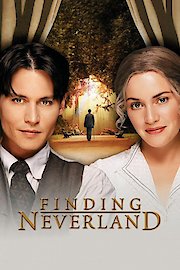 Watch Finding Neverland
"Where will your imagination take you?"
PG
2004
1 hr 46 min
67
"Finding Neverland" is a beautifully crafted, heartwarming film that tells the story of Scottish playwright J.M. Barrie, played by Johnny Depp, and his journey toward writing one of the most beloved stories of all time, "Peter Pan." The film takes a look at the life and times of Barrie and the circumstances that led him to create the magical world of Neverland. The story is set in early 20th century London, where we meet Barrie as a struggling playwright trying to make ends meet. At the time, he is dealing with a great deal of personal turmoil, including a marriage that has lost its spark and a career that has yet to take off. However, all of that begins to change when he meets the Llewelyn Davies family – Sylvia (Kate Winslet) and her four young sons. Through spending time with the boys, Barrie begins to regain the childlike wonder and imagination that he had lost over the years. The young boys are constantly playing make-believe and are always getting into some sort of mischief. Barrie becomes particularly intrigued by the youngest boy, Peter (Freddie Highmore), who has a deep sense of sadness inside of him. Barrie comes to realize that Peter's mother, Sylvia, is suffering from a terminal illness and that the boys are soon to be left without a mother. In an effort to bring some joy and imaginative fun into their lives, Barrie begins to spend more and more time with the Llewelyn Davies family. He takes the boys on adventures, tells them stories, and even helps them put on plays. In doing so, he begins to develop the idea for "Peter Pan," drawing inspiration from his time with the boys and their flights of fancy. The film follows Barrie's journey as he slowly but surely pieces together the elements that would become "Peter Pan." We see him grappling with the themes of loss and growing up, and we see him employing his own creative talents to bring his ideas to life. The film does an excellent job of showing how Barrie's relationships with Sylvia and the boys influenced the story of "Peter Pan" and how he was able to take their experiences into the realm of the fantastical. Throughout the film, we're treated to some excellent performances from the entire cast. Johnny Depp is brilliant in the leading role, portraying Barrie with a thoughtful and gentle nature. Kate Winslet delivers an equally powerful performance as Sylvia, bringing great sensitivity and depth to her character. And Freddie Highmore shines as Peter, capturing the spirit of a child who is dealing with tremendous loss and sadness. One of the standout features of "Finding Neverland" is its stunning visual style. The film makes use of some truly magical imagery to bring the story to life. We're treated to dazzling scenes of Barrie and the boys flying through the air, leaping over rooftops, and engaging in all manner of adventures. These elements work seamlessly with the rest of the film to create a vivid and unforgettable world. Overall, "Finding Neverland" is a delightfully charming film that is sure to enchant audiences of all ages. The story is touching and heartfelt, and the performances are top-notch. It's a beautiful tribute to the power of imagination and the wonder of childhood. Anyone who has ever been captivated by the story of "Peter Pan" will find much to love in this film.