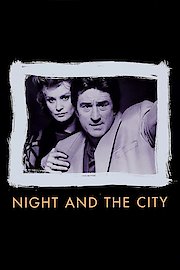 Watch Night and the City
"When you're down to your last dream, you either live it or lose it."
R
1992
1 hr 45 min
61
Night and the City tells the tale of Harry Fabian, a New York City lawyer who enjoys spending his moments of leisure at a bar called Boxers, owned by a man named Phil and his wife, Helen. One night while hanging out in the bar, Fabian notices an article in which a man was wrongfully and tragically beat by a professional boxer. Disgusted by this and seeing his opportunity, Fabian calls the beaten man and convinces him to go to court to sue the boxer. However, the court dismisses the trial, and the real action begins after Fabian decides to gain the title of boxing promoter in order the settle the score a different way.