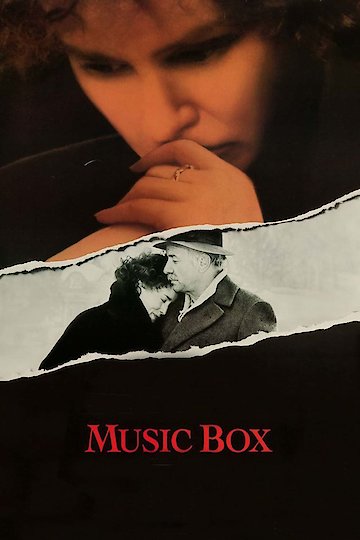 Watch Music Box
"As a lawyer all she wanted was the truth. As a daughter all she wanted was his innocence. How well do you really know your father?"
PG-13
1989
2 hr 4 min
Music Box is a 1989 American drama film directed by Costa Gavras, starring Jessica Lange, Armin Mueller-Stahl, and Frederic Forrest. The film follows Ann Talbot, a successful Chicago attorney, who is tasked with defending her father, Holocaust survivor Mike Laszlo, when he is accused of being a war criminal. The film opens with Ann Talbot (Jessica Lange) celebrating her birthday with her father, Mike Laszlo (Armin Mueller-Stahl). A successful attorney in Chicago, Ann is surprised when her father is arrested by the U.S. government for allegedly committing war crimes during World War II. Ann believes her father is innocent, and decides to defend him in court.
As Ann begins to investigate the allegations against her father, she journeys to Hungary to uncover the truth about his past. She discovers that her father may have been involved in the deaths of Jewish civilians during the war, and has been living under an assumed identity in the United States for years.
Throughout the course of the trial, Ann confronts painful truths about her father and her family's past. She faces opposition from her father's former colleagues and friends, who refuse to acknowledge his involvement in the war crimes. Ann must convince the jury of her father's innocence, while reconciling with the truth about his past.
Music Box is a powerful and haunting film about the search for justice and the devastating impact of war on individuals and families. The film is beautifully shot, with striking images of Budapest, and features strong performances from its leads. Jessica Lange gives a nuanced and emotionally charged performance as Ann Talbot, who must come to terms with her own family's history. Armin Mueller-Stahl delivers a heartbreaking performance as Mike Laszlo, a man who must confront the consequences of his actions during the war. Frederic Forrest also delivers a strong supporting performance as Jack Burke, a private investigator who helps Ann uncover the truth about her father.
At its heart, Music Box is a film about the power of family and forgiveness. It explores the complex relationships between parents and children, and the ways in which the past can shape our lives in unexpected ways. The film also raises important questions about justice and the role of the law in holding individuals accountable for their actions.
Overall, Music Box is a moving and thought-provoking film that stays with the viewer long after the credits roll. It is a must-see for anyone interested in history, the legal system, or the human experience.