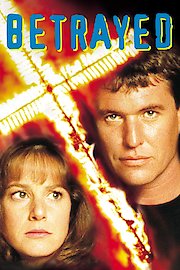 Watch Betrayed
"Suspect. Investigator. Passion. Betrayal."
R
1988
2 hr 7 min
Betrayed is a suspenseful drama movie from 1988 where terror lurks at every corner. The movie features Debra Winger, Tom Berenger, and John Heard in leading roles. The story follows Catherine Weaver (Debra Winger), an FBI agent who is assigned to investigate a group of white supremacist terrorists. During her investigation, Catherine meets Gary Simmons (Tom Berenger), a farmer whom she falls in love with. Catherine believes that Simmons is a simple-minded farmer whom the supremacist leaders have taken advantage of. However, the story takes an unexpected turn when she discovers that he is a key member of the terrorist organization.
As Catherine delves deeper into her investigation, she discovers that Simmons is not who he seems to be. The man she loves is a manipulative, violent leader of a group of extremists who have planned a series of deadly attacks across America. When Simmons discovers that Catherine is an FBI agent, he decides to take revenge on her by imprisoning and torturing her.
The movie's plot twists and turns at every step, leaving the audience on the edge of their seats. The suspenseful and intense scenes are balanced out by the romantic storyline between Catherine and Gary.
Debra Winger delivers an excellent performance as Catherine Weaver, portraying the character's bravery and vulnerability with ease. Tom Berenger's performance as Gary Simmons is also noteworthy, as he adds depth and complexity to the character of a violent extremist.
The movie's supporting cast including John Heard, who plays Catherine's boss and mentor at the FBI, and John Mahoney, who plays a member of the white supremacist group, provide strong performances as well.
Betrayed is directed by Costa-Gavras, a director known for his political dramas. The movie's political undertones are evident, as it explores the social and political themes of white supremacy and terrorism in America.
The movie's cinematography is also noteworthy, with cinematographer Patrick Blossier capturing the beautiful landscape of rural America in stark contrast to the violent acts of the extremist group. The movie's soundtrack, composed by Bill Conti, adds tension to the movie's suspenseful scenes.
Overall, Betrayed is a well-crafted movie that keeps the audience engaged from start to finish. The movie's powerful performances, suspenseful plot, and political undertones make it a must-watch for fans of thrillers and dramas alike.
Betrayed is a 1988 crime movie with a runtime of 2 hours and 7 minutes. It has received moderate reviews from critics and viewers, who have given it an IMDb score of 6.3.