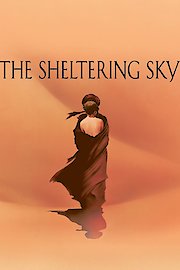 Watch The Sheltering Sky
"A woman's dangerous and erotic journey..."
R
1990
2 hr 18 min
The world of an artist is a lonely and often confusing one. Some artists look to find companionship in other creative types who may understand their personal torment. Port Moresby is the prototypical artist. He is moody, disinterested in others, and unable to sustain a social relationship. Kit seemed to be Port's perfect mate because she was the only one who could get him to come out of his shell. The two married and set out to create art and a life together in their own unique ways. But Port and Kit's relationship started to go sour and that was the last thing that either one wanted. The couple decided to go to Africa, wander the countryside, capture some art, and rebuild their crumbling relationship. Out on the plains of Africa, Port felt that he could reconnect with Kit and save the one thing in his life that represented stability. But as the couple spends more time in Africa cut off from civilization, they start to think that maybe they were not meant to be together anymore. Instead of their trip of enlightenment working to bring strength to their relationship, it is proving to do the exact opposite.