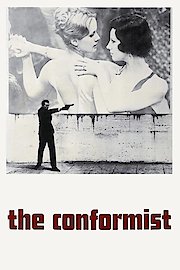 Watch The Conformist
"A dazzling movie."
R
1970
1 hr 47 min
100
The Conformist is a psychological thriller drama directed by Bernardo Bertolucci and released in 1970. The movie is set in Italy in the 1930s, during the fascist regime of Benito Mussolini. It stars Jean-Louis Trintignant as Marcello Clerici, a young man who struggles to fit in with societal norms and seeks to conform, even if it means betraying his own ideals and morals.
Throughout the film, Marcello is haunted by traumatic memories of his childhood, including an incident with chauffeur Lino (Piero Vida) and a pedophilic professor—an event that leads Marcello to question his own sexuality. Now grown up, he is tasked with assassinating an exiled professor who opposes fascism, all while on his honeymoon with his new bride, Giulia (Stefania Sandrelli).
Despite his outward conformity to the fascist regime, Marcello's insecurity and lack of self-confidence lead him to use his honeymoon as a cover for his assignment, hoping that his status as an 'ordinary' citizen will shield him from suspicion. Along the way, he is befriended by Manganiello (Gastone Moschin), an enthusiastic fascist who encourages Marcello's loyalty to the regime.
As Marcello carries out his mission, he is forced to confront the contradictions and tensions within himself, including his desire for both obedience and freedom. His psychological struggle is mirrored in the movie's visual style, which combines realism with surrealism and political commentary with personal introspection.
The cinematography of The Conformist is particularly noteworthy, featuring a mix of formal compositions, rapidly edited sequences, and striking use of color and light. Bertolucci's direction also makes use of a range of techniques, such as flashback, voiceover, and dream sequences, to explore Marcello's complex psyche and his conflicted relationship with society.
The movie's themes of conformity, identity, and fascism earned it critical acclaim and a loyal following, establishing Bertolucci as a cinematic force. The Conformist won numerous awards, including the National Society of Film Critics Award for Best Director and three Academy Award nominations. It continues to be celebrated as one of the greatest works of Italian cinema and a masterpiece of international cinema.
Overall, The Conformist is a film that explores the nature of power and authority, individual and societal identity, and the consequences of conformity. It is a deeply personal and hauntingly beautiful work that encourages the viewer to confront their own relationship to power and free will. Its historical setting and political themes are still relevant today and give the movie a timeless quality and broad appeal.
The Conformist is a 1970 drama with a runtime of 1 hour and 47 minutes. It has received outstanding reviews from critics and viewers, who have given it an IMDb score of 7.9 and a MetaScore of 100.