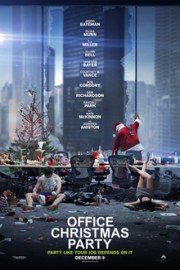 Watch Office Christmas Party
Office Christmas Party is a 2016 American comedy film directed by Josh Gordon and Will Speck. The movie stars an all-star cast including Jason Bateman, Olivia Munn, T.J. Miller, Jennifer Aniston, Kate McKinnon, Courtney B. Vance, and many more. The movie is about the high tech company called Zenotek, which is struggling a lot in recent times and their branch in Chicago is about to close. But then the CEO of the company Carol Vanstone (Jennifer Aniston), sister of Clay Vanstone (T.J. Miller), who is the head of the Chicago office, decides to shut down their branch and lay off all the employees.
To boost the morale of their employees, Clay decides to hold an office Christmas party to end all office Christmas parties. A party so epic, it will attract a new client and save the jobs of all his coworkers. In an attempt to impress Walter Davis (Courtney B. Vance), a client that will save their jobs, Clay organizes a Christmas party to remember. But what starts out as an innocent enough Christmas party soon spirals out of control when the alcohol starts flowing and the partygoers start getting wild. The party only gets wilder and more insane as it gains momentum and everyone lets loose.
Jason Bateman plays the role of Josh Parker, the chief technical officer at Zenotek. He's a dedicated worker and a loyal friend to Clay, but he's not much of a party animal. Olivia Munn plays the role of Tracey, a tech-savvy employee who is crushing on Josh. T.J. Miller plays the role of Clay Vanstone, the head of the Chicago branch of Zenotek, who is determined to save his coworkers' jobs.
Jennifer Aniston plays the role of Carol Vanstone, the CEO of Zenotek who is ruthless in her decision-making and will stop at nothing to close down the failing branch. Kate McKinnon plays the role of Mary, the ultra-conservative HR representative, who has a few surprises up her sleeve when she gets caught up in the party. Courtney B. Vance plays the role of Walter Davis, the businessman who is interested in signing a deal with Zenotek.
As the party progresses, things get more and more out of hand. Guests start trashing the office, stealing each other's belongings, and engaging in all sorts of debauchery. But despite all the craziness, everyone is having the time of their lives. Josh has his own problems to deal with, like trying to find a way to cover up a security breach that could cost the company millions of dollars.
In the end, the partygoers have the time of their lives, the company saves the branch, and Clay learns a valuable lesson about being a better boss. The movie showcases the power of friendship and how a little bit of fun and craziness can bring everyone together in difficult times. It's a great movie to watch with friends and family, and it'll surely leave you laughing and feeling uplifted.
Office Christmas Party is a 2016 comedy. It has received mostly poor reviews from critics and viewers, who have given it an IMDb score of 5.9 and a MetaScore of 42.