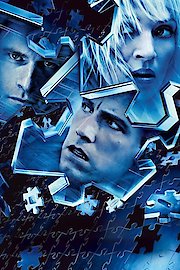 Watch Paycheck
"Remember the future."
PG-13
2003
1 hr 59 min
43
In the science fiction thriller Paycheck (2003), Ben Affleck plays Michael Jennings, a highly skilled engineer and reverse engineer who is approached by his old friend Rethrick (Aaron Eckhart) to work on a top-secret project. In exchange for three years of his life, Jennings agrees to take on the job that will earn him millions of dollars.
The project involves reverse engineering an incredible invention that will change the world, but after working on it for three years, Denver finds out that he has been subjected to a memory wipe, erasing his knowledge of the last three years of his life. To add insult to injury, he also did not receive his $92 million payout.
Faced with an unexpected turn of events, Jennings decides to investigate the last few years of his life to find out what he had been working on and why he was not paid. He discovers that he had been working on something much more dangerous than he could have ever imagined, and is now the target of those who want to keep it a secret.
As Jennings races against time to uncover the truth, he is aided by Rachel (Uma Thurman), a biologist who was part of the team that worked with him on the project. Together, they must find out the true purpose of the invention, why it is so valuable, and who is willing to kill to keep it a secret.
Paycheck is a tense thriller that keeps the audience on the edge of their seat from start to finish. With its non-stop action and fast-paced plot, the movie is a crowd-pleaser that will appeal to fans of science fiction and action films alike.
One of the film's standout features is its impressive special effects, which bring to life a number of futuristic gadgets and weapons that are crucial to the story. This includes a powerful electromagnetic pulse that can disable electronic devices, and a pair of contact lenses that can record and play back audio and video.
In addition to its impressive visual effects, Paycheck is also notable for its strong performances from its three leading actors. Affleck brings his trademark charisma to the role of Michael Jennings, portraying a man who is both intelligent and resourceful, but also vulnerable and human. Thurman is equally impressive as Rachel, a woman who is just as smart and capable as Jennings, and who serves as his equal partner in the investigation.
Eckhart, meanwhile, portrays a villain who is both charming and menacing, with a hint of unspoken danger that makes him all the more threatening. His character's motivations are complex and layered, adding to the film's intrigue and suspense.
Director John Woo brings his signature style to the film, creating several memorable action sequences that showcase the film's high-tech gadgets and weapons. His use of slow motion, sweeping camera angles, and intense editing create a sense of excitement and danger that is palpable throughout the film.
Overall, Paycheck is a thrilling, high-octane film that is sure to satisfy fans of action and science fiction alike. With its strong performances, impressive special effects, and exciting storyline, it is a standout entry in the genre, and a must-see for anyone looking for an entertaining and suspenseful movie experience.
Paycheck is a 2003 action movie with a runtime of 1 hour and 59 minutes. It has received mostly poor reviews from critics and viewers, who have given it an IMDb score of 6.3 and a MetaScore of 43.