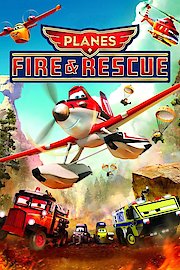 Watch Planes: Fire & Rescue
"When others fly out, heroes fly in."
Planes: Fire & Rescue is the sequel to Disney's Planes, which was the spin-off to Disney Pixar's Cars. Dusty the crop duster is back in this exciting new adventure. In a moment of defiance, he goes on a risky flight that ends when he crashes at an airport and causes a fire. Through that experience, Dusty hopes to be come a firefighter and wants to get certified to do so. Upon meeting up with a firefighting squad whose leader is essentially unimpressed by him, Dusty must then prove that he has what it takes to become a firefighter just as he had to prove that he could race and win in the first Planes movie. Needless to say, his determination pays off as he struggles through many hurdles and becomes the hero of the day once again.