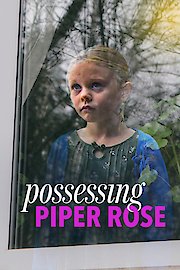 Watch Possessing Piper Rose
TV-PG
2011
1 hr 30 min
Possessing Piper Rose is a 2011 drama thriller directed by Kevin Fair and starring Rebecca Romijn, David Cubitt, and Isabella Crovetti. The story revolves around a wealthy couple, Jordan and Greg, who have recently lost their daughter, Piper, in a car accident. The couple is struggling to move on, and their already-fractured marriage is on the brink of collapse.
One day, Jordan sees a young girl who looks exactly like Piper in a mall. She later finds out that the girl is, in fact, Piper's biological daughter, Emma. Emma's mother, Erica, is a former drug addict who gave up custody of Emma to Jordan and Greg for a sum of money. Jordan is intrigued by Emma's resemblance to Piper and offers to take care of the child once again.
Jordan soon becomes obsessed with Emma, which puts a further strain on her relationship with Greg. Jordan is convinced that Emma is the reincarnation of Piper and begins treating her as such. She starts to dress Emma like Piper and refers to her as 'Piper Rose.' She even goes so far as to try and mold Emma into Piper's likeness.
Meanwhile, Erica relapses into her drug addiction and starts causing problems for Jordan and Greg. She becomes convinced that Jordan is trying to steal Emma from her and starts to harass her. Erica's erratic behavior brings forth a lot of chaos, and Jordan's obsession with Emma only makes the situation more complex.
The movie portrays the themes of grief, loss, and obsession in a very raw and honest manner. It shows how the loss of a child can unhinge a person's sanity and make them do things they wouldn't do otherwise. The movie also highlights the contrast between the two mothers, Jordan and Erica, and their different styles of parenting. Jordan tries to mold Emma into Piper's likeness, while Erica just looks out for her child's well-being, even if it means giving her up for adoption.
Rebecca Romijn delivers a powerful performance as the grieving mother, Jordan. She portrays the character's descent into obsession and madness with a lot of authenticity and nuance. David Cubitt is adequate as Greg, but his character feels underwritten and doesn't leave a lasting impression. Isabella Crovetti shines as Emma and brings a lot of innocence to the role.
The movie's pacing is slow, and it takes a while for the plot to gain momentum. However, the slow burn approach works in the film's favor as it adds a lot of tension to the proceedings. The cinematography is beautiful, and the film's lush visuals stand in stark contrast to the dark themes at play.
The movie's ending is open to interpretation, and it's up to the viewers to decide what happens to Jordan and Emma. Some may find the ending ambiguous, while others may find it satisfying.
Overall, Possessing Piper Rose is a gripping thriller that deals with complex issues like grief, loss, and obsession in a very mature and nuanced way. It's a well-made movie with an excellent performance by Rebecca Romijn, and it's definitely worth a watch.
Possessing Piper Rose is a 2011 drama with a runtime of 1 hour and 30 minutes. It has received mostly poor reviews from critics and viewers, who have given it an IMDb score of 4.5.