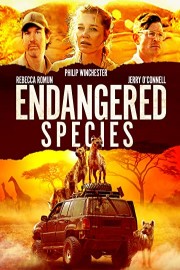 Watch Endangered Species
R
2021
1 hr 41 min
Endangered Species is a thrilling action movie that keeps you on the edge of your seat from start to finish. Released in 2021, the movie features a talented cast led by Rebecca Romijn as Lauren Halsey, a mother determined to protect her family in the face of danger. The Halsey family sets out on a safari adventure in Africa, looking forward to a fun-filled vacation in the wild. They are accompanied by their local guide, Richard (played by Philip Winchester), who is experienced in navigating the terrain and dealing with the wildlife.
However, their vacation quickly turns into a nightmare when the family is attacked by a group of armed poachers who are after the rare and valuable white rhinos in the area. The Halseys find themselves stranded in the wilderness with no help in sight.
As they struggle to survive, Lauren and Richard must work together to protect the family from the poachers who are determined to kill them. With time running out and their resources dwindling, they are forced to make difficult decisions that could mean the difference between life and death.
The movie does an excellent job of showcasing the beauty and danger of Africa's wilderness. The stunning cinematography captures the vast landscapes and the wild animals that roam free in the area. At the same time, the movie highlights the darker side of the safari industry, where poachers and big game hunters often exploit the land and its resources for their own benefit.
Rebecca Romijn delivers an outstanding performance as the fiercely protective mother who will stop at nothing to keep her family safe. Her character's determination and resourcefulness are inspiring and showcase the strength and resilience of a mother's love.
Philip Winchester also delivers a solid performance as the guide who steps up to protect the family in their time of need. His calm and collected demeanor in the face of danger adds to the movie's tension and suspense.
Isabel Bassett also provides a strong performance as the Halsey's daughter, who struggles to come to terms with the danger they are facing. Her character's vulnerability adds a layer of emotional depth to the film, as the audience is invested in the safety of each member of the family.
Overall, Endangered Species is a captivating film that brings to light the dangers and beauty of Africa's wildlife. It features a strong cast of characters and an engaging storyline that keeps you hooked until the very end. If you're a fan of action movies or enjoy stories of survival and courage in the face of danger, then Endangered Species is a must-see.
Endangered Species is a 2021 action movie with a runtime of 1 hour and 41 minutes. It has received mostly poor reviews from critics and viewers, who have given it an IMDb score of 4.6.