Strike Back: Vengeance
Strike Back is a British and American joint venture television action drama that revolves heavily around the military. The series is based off of the wildly popular and realistic novel of the same name by former SAS officer and novelist, Chris Ryan. Strike Back: Vengeance is the third season of Strike Back, each of which have a subtitle. The third season contains ten different episodes, the plot of which revolves primarily around a intrepid major searching for four lost nuclear warheads which have fallen into the hands of a power-crazed millionaire whom seeks to use the weapons to furnish his own personal militia to take control of South Africa.
Sunday 9:00 PM et/pt on Sky One

1 Season,

7

Episodes

May 5, 2010

/

10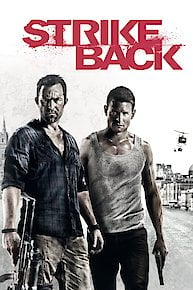 Strike Back: Vengeance Full Episode Guide
Episode

7

-

Vengeance, Episode 7

Stonebridge and Scott try take refuge in a badly fortified farmhouse. Tensions increase between Sinclair and Dalton.

Episode

6

-

Vengeance, Episode 6

The pursued Knox plots to unload the nuclear bombs on politically unstable African countries; and Dalton faces down Bryant about the CIA's involvement in Africa. Meanwhile, Matlock comes clean about why he got involved with Knox in the first place.

Episode

5

-

Vengeance, Episode 5

The missing nuclear leads the team to Cape Town, South Africa, where kidnappers abduct the children of an expatriate munitions expert in an effort to make him cooperate.

Episode

4

-

Vengeance, Episode 4

Knox extricates a political leader from a Zimbabwe prison, and the unit tries to catch up with the escapee by tracking his activist daughter.

Episode

3

-

Vengeance, Episode 3

Stonebridge seeks revenge on Craig Hanson after he turns up in Cape Town, South Africa. Meanwhile, Scott reconnects with a Mossad agent who's been following their case, but with a different set of orders; Knox hustles Evans to a secret installation and explains how he intends to turn his country into a world power.

Episode

2

-

Vengeance, Episode 2

Stonebridge, Scott and the rest of their group are having a hard time reaching an evacuation point. Conrad Knox is now part of the fold.

Episode

1

-

Vengeance, Episode 1

While Scott was on an escort mission in the Kenyan desert he was taken hostage in Mogadishu by a warlord with some British Embassy officials and a Libyan dissident. Also, Stonebridge is serving as a trainer for Section 20 recruits now in the UK.
If You Like Strike Back: Vengeance, Then Try...