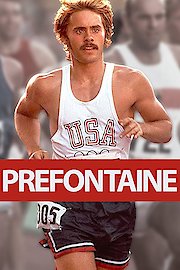 Watch Prefontaine
"He beat the odds... And became a legend!"
PG-13
1997
1 hr 47 min
56
Prefontaine is a biographical sports drama, directed by Steve James and written by Steve James and Eugene Corr. The movie was released in 1997 and stars Jared Leto, R. Lee Ermey, and Ed O'Neill. The film follows the life of Steve Prefontaine, a legendary long-distance runner from the University of Oregon, who became a national sensation in the early 1970s. His success on the track, coupled with his charismatic personality, made him a household name and a symbol of athletic prowess. However, his life was cut short when he died in a car accident at the age of 24.
The movie begins with Pre's early life in Coos Bay, Oregon, where he was born and raised. As a young boy, he showed a natural talent for running and quickly became obsessed with the sport. The film then jumps to his college years, where he starts to make a name for himself as a promising distance runner.
As he rises to fame in the running world, Prefontaine becomes increasingly outspoken about the uneven playing field between amateur athletes and the sports industry. His controversial statements and defiance towards the Amateur Athletic Union (AAU) made him a hero to many, as he fought for the rights of amateur athletes to profit from their talents.
Throughout the film, we see glimpses of Pre's personal life, including his romantic relationships and friendships with fellow runners. However, the movie primarily focuses on his career as a runner and the battles he faced both on and off the track.
Jared Leto's portrayal of Prefontaine is powerful and emotional. He brings a sense of vulnerability to the role, which makes the character more relatable and human. R. Lee Ermey plays Prefontaine's gruff but supportive coach, who pushes him to become the best runner he can be. Ed O'Neill also delivers a strong performance as the University of Oregon's athletic director who supports Pre's fight against the AAU.
Overall, Prefontaine is a well-crafted sports drama that captures the essence of the legendary runner's life. It shows us not only his victories but also his setbacks and struggles, making the character all the more compelling. The film is a fitting tribute to Steve Prefontaine's legacy and a reminder of the importance of fighting for what you believe in.
In conclusion, Prefontaine is a must-watch movie for sports enthusiasts and anyone interested in inspirational stories of real-life heroes. The film portrays the courage and determination of one of the greatest athletes of our time, leaving the audience with a lasting impression of an icon who changed the face of running forever.
Prefontaine is a 1997 drama with a runtime of 1 hour and 47 minutes. It has received moderate reviews from critics and viewers, who have given it an IMDb score of 6.8 and a MetaScore of 56.